Germany's World Cup Team Looks Unstoppable. Its Economy? Not So Much
by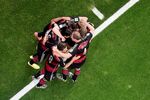 Hey, Germany. Sorry to spoil the party in Brazil, but something needs attention at home: your economy.
Yes, we're talking about the same mighty Germany that serves as Europe's economic engine and export powerhouse, generating 30 percent of euro-zone output. The latest numbers don't look so impressive. German exports, industrial production, and factory orders have been falling, and business confidence dropped to a six-month low in June.
Is this just a temporary lull in an economy that's moving "upward significantly," as the Bundesbank says? Or is Germany headed for zero percent growth by early 2015? That's the forecast of of Steen Jakobsen, chief economist at Denmark's Saxo Bank.
Jakobsen says Germany faces economic threats on several fronts, including:
• waning appetite for its exports, especially in China, as it shifts to a more-controlled growth strategy that will reduce demand for big-ticket industrial goods that are Germany's specialty;
• the Ukraine crisis, which could harm Germany's extensive business and trade ties with Russia, while exposing it to potential disruption of Russian natural gas supplies;
• rising energy costs, as Chancellor Angela Merkel's government phases out relatively low-cost nuclear power. Such companies as BMW are already moving energy-intensive manufacturing operations offshore;
• higher labor costs, as Germany implements its first national minimum wage.
Not everyone agrees Germany's situation is that dire. In Bloomberg's most recent survey of economists, they predict the German economy will grow 2 percent this year and again in 2015. That's well ahead of the overall euro zone forecast of 1.1 percent for 2014 and 1.5 percent next year.
But considering the outsize role Germany plays in the regional economy, any signs of weakness are worrisome. The recent slowdown in Germany has already "dented hopes that it might power a strong region-wide revival," analysts at London-based Capital Economics wrote in a note to clients this week. As a result, "the recovery in the euro-zone economy appears to be losing steam again."
Jakobsen contends that Germany's export-driven economic model is no longer sustainable. Trading partners in Asia are trimming imports, while those in Europe are too feeble to take up the slack. The recent strength of the euro currency only makes things worse. "Germany has been too complacent for too long, in terms of its export dependency," he says.
Before it's here, it's on the Bloomberg Terminal.
LEARN MORE