Donetsk Primed for Siege as Ukraine Army Hems In Rebels
Denis Kazansky, Daryna Krasnolutska and Daria Marchak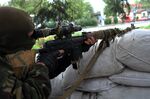 Donetsk is steeling itself for a siege as troops encircle separatists who've pulled back to the biggest city in Ukraine's conflict zone after months of bloody unrest.
"I feel it will be the end of Donetsk soon -- all life will stop," said 32-year-old Oleksandr after hundreds of pro- Russian insurgents rode battered tanks past hoards of onlookers in the regional capital of almost a million people. He now fears a devastating blockade similar to the one that ravaged Slovyansk, the nearby stronghold the fighters abandoned last week. He's not hanging around to see how it pans out.
"We'll lose water, electricity and phone connection," said Oleksandr, a manager at a food-distribution company who declined to give his last name for fear of reprisals from the rebels. "I plan to leave as soon as I can."
The deadly struggle for control of Ukraine's easternmost regions is coming to a head, with most separatists holed up in Donetsk and 90 miles away in Luhansk, and the army vowing to tighten the net around them until they surrender or are killed. The government says it's curbed the insurgents' supplies from Russia, which denies assisting them and wants Ukraine to back off. The conflict has already cost hundreds of lives.
Bullets, Bombs
While the military hasn't sent forces into the two cities - - hubs for the metals and coal-mining industries that dominate Ukraine's border regions with Russia -- it says it's blockading them and may deploy special forces. The insurgents doubt the army's ability to pen them in and say they'll go on the attack.
As many as 100,000 inhabitants have fled Donetsk in recent weeks, according to the mayor's office. The flow of people leaving has jumped "several times" since the separatist influx, said Dmitry, 23, who works in the local auto industry and declined to give his last name for fear of reprisal.
"People are scared the city will be bombed," he said. "Planes bombed the Petrovka region nearby this week and my friends saw later craters 4 meters (13 feet) wide on the road. Kiev says it's not bombing anyone but people have stopped believing the official line."
There are already fewer people and cars on the streets as residents brace for the battle ahead. Locals have described the sound of gunfire and say explosions can be heard as insurgent groups fight among themselves. Rebels are seizing kindergartens and schools, Defense Ministry spokesman Andriy Lysenko said.
Water Rationing
"People are most afraid of being hit by a rebel bullet," said Igor Didevich, 30, an entrepreneur. "I plan to leave. I can't live here when there's a chance people will be taken away by gunmen just for taking a photo in the wrong place."
Those who stay behind face tougher times.
The regional governor's office has warned people not to argue with separatists and to steer clear of their hideouts. Starting July 5, Donetsk began a "regime of strict water saving" that limits supplies to residents to a daily five-hour window, the mayor's office said in a statement.
In Luhansk, the authorities have increased the frequency of trains to help some of its 400,000 inhabitants leave. Two civilians were killed there July 8 after being hit by shrapnel from a shell, according to the National Defense and Security Council. It denies government forces are using artillery there.
The insurgents who've flooded Donetsk are bullish.
'Active Offensive'
"We're not preparing for a blockade, but for an active offensive against the Ukrainian army," rebel leader Alexander Borodai told Russia's Gazeta.ru news portal in a July 8 interview. "Fighting in many places was difficult; now we don't have that problem."
The insurgents had previously based themselves in towns such as Slovyansk, where mortar fire destroyed apartment buildings, killing civilians, and power and water supplies were cut. The fighting drove about more than half of its 120,000 people to flee the weeks-long occupation.
The pullback to Donetsk and Luhansk could complicate attempts to dislodge the separatists, according to Joerg Forbrig, a senior program officer at the Berlin bureau of the German Marshall Fund of the U.S. He highlights the two cities' more abundant resources -- from fuel to food -- as well as the larger civilian populations.
"This presents a much more severe challenge to the leadership in Kiev," he said by e-mail. "Sadly, it's precisely this calculus that drives the separatist fighters into these larger cities. They're upping the cost."
No Retreat
Donetsk will be surrounded and bombed by artillery, rebel leader Pavel Gubarev said yesterday. "There's no way to retreat. For us, it's either victory or death."
The military situation is "very complicated," according to Andriy Parubiy, head of the National Defense and Security Council. The insurgents are hiding in the two cities so they can use the civilian populations as a "human shield," he said late yesterday from Kiev in a video link with Washington.
Russia continues to demand that Ukraine withdraw its troops after President Petro Poroshenko on July 1 called off a unilateral cease-fire in the wake of persistent clashes.
"There can be no reason whatsoever to postpone the cease-fire," Russian Foreign Minister Sergei Lavrov said July 8 in Sofia, Bulgaria. "The fighting is inflicting great suffering on the civilian population, as a result of which the outflow of refugees is increasing and civilian infrastructure is being destroyed."
Russia's Role
The use of heavy artillery and potential large-scale civilian casualties could lead to more vocal criticism of the Ukrainian government by Russia "and perhaps increase its involvement in the conflict," Matthew Clements, deputy head of analysis for Europe and the ex-Soviet Union at IHS Country Risk, said July 7 in an e-mailed note.
The European Union is still advocating a peaceful resolution, though three-way talks including Ukraine and Russia have failed to achieve a breakthrough.
Back in Donetsk, Oleksandr, who's been on unpaid leave since the unrest began after Russia's annexation of Crimea in March, holds out little hope of a peaceful end. He fears the local services that continued to function before the recent flood of separatists will fade away.
"Now life will be paralyzed," Oleksandr said.
Before it's here, it's on the Bloomberg Terminal.
LEARN MORE