Container Store Sees a 'Retail Funk' Gripping America
by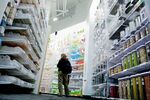 American consumers are in a "retail funk" that is keeping people from shopping as much as they once did, according to Container Store executives, who reported their first sales decline in nearly four years.
The malaise isn't limited to lower-income consumers and can be seen nationwide, Container Store Chairman and Chief Executive William "Kip" Tindell said Tuesday night on a conference call with analysts. Same-store sales fell 0.8 percent in the first quarter, the first drop after 15 consecutive quarters of gains.
Tindell said the problem appears to infect "little retail" and not home, auto, and "high-ticket furniture" sales. The brutal winter weather and spring holiday shifts cited by many retailers for weak sales were difficulties, he said, but not the true source of what ails U.S. consumers.
Here's more on Tindell's view of the retail malaise:
"We don't see any geographical differences between it. It seems to be all over the place, and we have a pretty robust database. Our highest-end customer seems to be a little bit infrequently shopping us, for some darn reason, and so does the—I mean we have a very uneven economic recovery still. So for a long time, it was the lower-end retailers were suffering and the higher end, we're doing better, and we were doing better. Now it seems to be more democratic. It seems to be kind of across the board."
The suburban Dallas-based chain derives 60 percent of its annual profit in the fourth-quarter holiday season and "less than zero percent" in the first quarter. Container Store shares fell more than 9 percent today, to $24.46, and have declined more than 47 percent this year. The company went public in October at $18 per share.
Before it's here, it's on the Bloomberg Terminal.
LEARN MORE