American Apparel's Rescue Deal Leaves Charney's Fate Uncertain
By and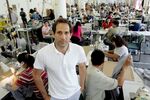 American Apparel will get $25 million from investor Standard General in an agreement that will shake up the board and let the struggling retailer pay off a $10 million loan, a person familiar with the matter says. Under the pact, Standard General will add three members to American Apparel's board and two additional new directors will be selected mutually, says the person, who asked not to be named because the deal hasn't been made public yet. American Apparel's current co-chairmen, Allan Mayer and David Danziger, will stay on the board, the person says.
The financing deal gives a lifeline to the unprofitable retailer after the ouster of founder Dov Charney, who served as American Apparel's chairman and chief executive officer, as well as a demand by creditor Lion Capital for repayment of $10 million in debt. Charney allied himself with Standard General, giving the hedge fund control of his stake and voting rights. The investment firm isn't pushing for his return, however, and the person says American Apparel's new board will decide on the future role that Charney might play in the company.
Mike Sitrick, a spokesman for American Apparel, declined to comment. Standard General didn't immediately respond to a request for comment.
The clothing chain was in turmoil well before last month's removal of Charney, who has faced sexual-harassment lawsuits while drawing controversy with provocative advertising. The Los Angeles-based company has posted about $270 million in net losses since 2010 and has been forced to raise capital several times to meet its obligations.
The current board is expected to approve the Standard General deal as soon as today, according to the person. Standard General, based in New York, will itself supply one director and choose two others, with the changes taking effect in the next few weeks, the person says. The company will also continue to rely on domestic manufacturing for its T-shirts and other clothing—a marketing point for the retailer.
Before it's here, it's on the Bloomberg Terminal.
LEARN MORE