A Lawsuit Could Reveal If Passenger Bags Get Bumped for Airline Cargo
By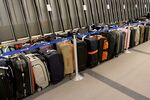 A lawsuit against United Airlines contends the carrier will leave passenger bags behind to make space for cargo shipments when a plane is too heavy.
Gina Spadoni, the plaintiff in the suit, took a United flight from Chicago to Los Angeles in September and paid $25 to check her luggage—yet the bag did not make her same flight. That represents a breach of the carrier's contract of carriage, according to the lawsuit filed last week.
Her attorney, Tom Zimmerman, said she was forced to purchase new clothes for an event she was attending in California. "It was really an inconvenience and a stressful time for her." Zimmerman said a United baggage handler and flight attendant confirmed to him that the practice is widespread.
"United's removal of checked baggage, or failure to place checked baggage onto the aircraft altogether, is done arbitrarily, capriciously, with improper motive, and in a manner inconsistent with the reasonable expectations of its passengers," the lawsuit says. "It costs United nothing to remove checked baggage, rather than cargo, in order to arrive at an acceptable aircraft weight because the checked baggage fee is purportedly nonrefundable, and United can simply transport the checked baggage on a later flight to the passenger's destination."
Jennifer Dohm, a United spokeswoman, said "cargo does not take precedence over passengers and their luggage" when a particular plane needs to lighten its weight. The airline said the suit "is without merit, and we will vigorously defend against it."
United reported cargo revenue of $209 million in the first quarter, down 8 percent from the previous year. Checked-bag fees represent a major source of revenue for the airline industry, but cargo shipments typically offer guarantees on delivery times and financial recourse for customers whose packages arrive late. Most airlines do not refund their baggage fees if a suitcase and its owner end up on separate flights and arrive at different times.
The lawsuit seeks a refund of all baggage fees paid for bags that were delayed since September 2003, when United favored cargo over passenger luggage, and to refund such fees in the future when a bag is not transported with a passenger. The suit also seeks class-action status to represent thousands of United customers in Illinois whose bags did not make the same United flight as their owners.
Before it's here, it's on the Bloomberg Terminal.
LEARN MORE