Volvo Says Its New SUV Will Be Cleaner Than a Prius
by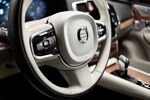 Volvo's SUV striptease continued on Tuesday morning as it flashed an additional peek at the XC90 that it hopes will resurrect the company in the U.S..
The latest show—Volvo showed off the vehicle's new interior in May and is planning the full monty for August—was all about the engines. With both a gas-burning and an electric engine, the new Volvo will be the most powerful and "cleanest" SUV to date, according to the company. That's a big claim that largely rests on how one defines power, clean, and SUV.
Semantics aside, the setup is impressive. Volvo promises the XC90 will make up to 400 in horsepower while putting out only about 60 grams of carbon dioxide per kilometer. Toyota's Prius emits about 89 grams of CO2 per kilometer. The European Union is hoping that the average of all vehicles on the Continent will drop to 130 grams per kilometer by 2015—and 95 grams by 2020.
If Volvo's claim proves true, the model will pump out far less carbon than most European cars now on the market. Keep in mind this is a vehicle that will carry seven people descended from Vikings.
The petrol units will be turbocharged four-cylinders in a range of options up to 320 hp. Each will be linked to an 80-hp electric motor cranking the rear wheels. Drivers will be able to choose between driving fully electric or entirely on burning gas.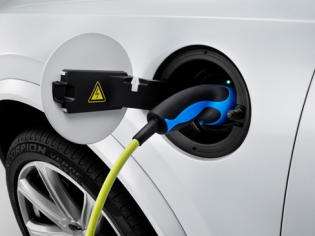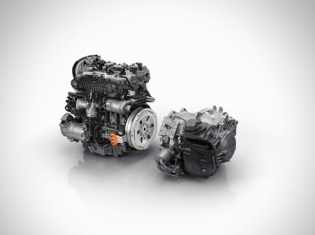 The marketing folks tuned the concept up under the moniker "T8," short for twin-engine. Lex Kerssemakers, Volvo's senior vice president for product strategy, says sticking with just four cylinders was a tough decision when the company set out to design the engines four years ago. "I can assure you we did not win the popularity contest in the company in the beginning," he says. "But I think we're absolutely spot-on with these engines."
This is a hugely important car for Volvo. The brand's popularity never waned in its Swedish homeland and is surging in China, home to its current owner, Zhejiang Geely. U.S. consumers have increasingly opted for BMWs, Audis, and Subaru since Volvo's boxy wagons started disappearing. Volvo sales plunged 55 percent in the U.S. from 2003 to 2013. Last year, domestic dealers moved only 61,233 cars and SUVs. Volvo now wants to double that figure by 2020. To do that, its new SUV will have to be perfect.
Before it's here, it's on the Bloomberg Terminal.
LEARN MORE