The End of Preet Bharara's Perfect Record on Insider Trading
By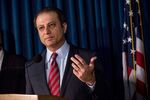 In a stunning, if not altogether unpredictable loss for U.S. prosecutors, a jury on Tuesday found Rengan Rajaratnam, the younger brother of convicted insider trader Raj Rajaratnam, not guilty of conspiracy to commit securities fraud. The jury deliberated for only a few hours.
Rengan was charged with conspiring with his brother to trade in two tech stocks, Clearwire and Advanced Micro Devices, based on illegal information that Raj had obtained. In a small twist of irony, it was a Securities and Exchange Commission examination of Rengan's $80 million hedge fund, Sedna Capital, back in 2006 that helped trigger the government's sweeping insider trading investigation involving the FBI in New York, prosecutors in Preet Bharara's Manhattan U.S. Attorney's Office, and the SEC. That investigation went on to take down dozens of traders and hedge funds, culminating in a guilty plea and $1.2 billion fine by Steven Cohen's hedge fund firm SAC Capital last November. Three thoughts:
1. This was not the government's strongest case. From the beginning, Judge Naomi Buchwald made it clear that she wasn't convinced by prosecutors' more aggressive charges against Rengan. And she dealt their case a significant blow last week when she threw out two securities fraud charges, leaving only a conspiracy to commit securities fraud charge over a trade that lost money. There are several elements that must be proved in insider trading cases involving a "remote tippee," someone who receives information indirectly and trades on it. The government must prove that the original tipper breached a duty to keep the information confidential, and that they obtained some benefit from the tippee for doing so. The judge made it clear—and the jury evidently agreed—that prosecutors didn't have the evidence to prove all of the elements.
2. Insider trading prosecutions may become more difficult in the future. This loss hints at broader shifts taking place in the legal world, including a high-profile appeal of an insider trading conviction that may redefine the definition of the crime, making it harder for the government to bring cases.
3. Prosecutors have achieved stunning success. Even though the headlines will emphasize the fact that this loss puts an end to the government's previously pristine 85-0 record on insider trading convictions, the government's success in this area is still remarkable. There are many people who have taken issue with the Justice Department's priorities in recent years, arguing that more resources should have been spent pursuing cases involving mortgage fraud. But in the area of illegal trading and hedge funds, the actions of Bharara's office have sent a strong message to Wall Street.
Before it's here, it's on the Bloomberg Terminal.
LEARN MORE