Widodo Euphoria Lost on Top Forecaster Before Election
Kyoungwha Kim, Liau Y-Sing and Ye Xie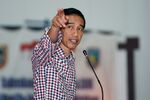 Exuberance over a pro-business presidential candidate in Indonesia committed to fixing the economy has been lost on analysts at Societe Generale SA, who scrapped their bullish rupiah call ahead of today's vote.
The most-accurate forecaster for Asian currencies, based on Bloomberg's latest quarterly rankings, cut its year-end estimate for the rupiah this week by 13 percent to 12,600 per dollar. Indonesia would need to plug its trade deficit, attract more investment and elect a president committed to economic reforms for the rupiah to extend its 4.7 percent advance this year, the best among regional peers, according to the Paris-based bank.
"Too many stars would need to align for the rupiah to rally for the rest of 2014," Benoit Anne, SocGen's head of emerging-market strategy in London, said in a July 7 phone interview. "We're turning bearish now because we're concerned about Indonesia's external position."
The firm's about-face reflects concern that Indonesia's presidential elections will fail to resolve the issues facing an economy which, at $878 billion, is almost three times bigger than Malaysia's and stretches across 900 inhabited islands. Indonesia's gross domestic product expanded at the slowest pace in five years in the first quarter, while exports fell in the year to May. Morgan Stanley says a fragmented legislature following the election would complicate efforts to repair the economy.
Market Reaction
Both leading presidential candidates, Jakarta Governor Joko Widodo, known as Jokowi, and Suharto-era General Prabowo Subianto, pledge to tackle corruption, improve infrastructure and boost economic growth in the world's most populous Muslim nation. Indonesia's benchmark stock index rose to a seven-week high and the rupiah strengthened yesterday as a new poll showed Jokowi widening his lead over Prabowo and speculation grew that voters outside Indonesia support him.
The Lingkaran Survei Indonesia poll released yesterday showed Jokowi, 53, leading by 3.6 percentage points, compared with a 0.5 percentage-point advantage in a similar poll at the end of June. A Roy Morgan poll last week showed the race was too close to call.
A Prabowo victory might "act as a dampener for business sentiment given his penchant for following populist, protectionist and debt-fueled growth policies," said Anne, whose bank rose from third place in the first-quarter rankings.
Forwards Jump
Rupiah forwards jumped the most since February as Widodo said unofficial counts at polling booths showed him leading the election. One-month non-deliverable forwards traded offshore rose 1.8 percent to 11,547 per dollar as of 3:58 p.m. in Singapore. Indonesia's currency ended yesterday at 11,630, its strongest closing level since May 28.
Analysts surveyed by Bloomberg have reduced their median year-end forecast for the rupiah to 11,900 per dollar, from as high as 11,450 in April.
In Asia, the best forecasters in Bloomberg's rankings were identified by averaging scores on margin of error, timing and directional accuracy across 11 currency pairs during the past four quarters. Firms had to be ranked in at least seven of the pairs to qualify for the overall ranking, with 28 making the grade. SocGen had a score of 60.68, topping Lloyds Banking Group Plc at 60.07 and Credit Suisse Group AG's 58.26.
A measure of demand in the options market known as risk reversals suggests traders believe the rupiah is more likely to snap its rally over the next three months than 28 of 30 global currencies tracked by Bloomberg.
Indonesia's markets are shut for today's elections and initial results will become available in the afternoon. If the tally isn't decisive, Indonesians will have to wait until July 21 or 22 for official results, and possibly until late August if there are legal challenges. The new president and vice president will be sworn in on Oct. 20.
ING, Barclays
"A Jokowi win would lead to a rally," Kevin Daly, who oversees $13 billion at Aberdeen Asset Management Plc in London, said by phone on July 7. If Prabowo wins, "the market will be disappointed and pull back a bit, but it's not necessarily going to be a big sell-off," he said.
ING Groep NV cut its year-end forecast for the rupiah to 11,700 on July 3, from 11,400 previously, on bets for a "lame-duck period" between the elections and the inauguration when reforms won't get passed, Tim Condon, the head of Asia research in Singapore, said yesterday by e-mail.
Barclays Plc, the fourth most-accurate forecaster of emerging-market Asian currencies in Bloomberg's rankings, lowered its estimate for the rupiah's year-end level to 12,000 in late June, from 11,283 earlier that month.
Repairing Economy
While Indonesia's current-account deficit shrank to 2.1 percent of GDP in the first quarter, compared with a record 4.4 percent in the second quarter of 2013, an official report suggested the improvement may not last. Exports shrank 8.1 percent in May from a year earlier, the most in 13 months. The country posted a trade deficit as recently as April.
The new president will inherit an economy that expanded 5.2 percent in the first quarter from a year earlier, the slowest pace since 2009. GDP will grow 5.3 percent this year, according to the median estimate of economists surveyed by Bloomberg, the least since 2009.
A Prabowo victory may push the rupiah down more than 5 percent to 12,300 per dollar while a win by his rival, with other political parties joining the cause, could see a rally to 11,000, said Geoffrey Kendrick, the bank's head of Asian foreign-exchange and rates strategy.
"It all boils down to implementation," Hong Kong-based Kendrick said in a June 26 note. "Indonesia's consensus-building policy making process means even a majority government may face execution challenges."
Before it's here, it's on the Bloomberg Terminal.
LEARN MORE