Indonesia Stocks Close at Seven-Week High as Jokowi Seen Winning
Yudith Ho and Harry Suhartono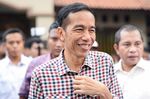 Indonesia's benchmark stocks gauge closed at a seven-week high and the rupiah strengthened amid speculation Joko Widodo will win tomorrow's presidential election on pledges to cut red tape and stoke growth.
The Jakarta Composite index of shares advanced 0.7 percent to 5,024.712, the highest since May 16. That followed a 1.7 percent gain yesterday after Widodo, known locally as Jokowi, and his running mate Jusuf Kalla made a strong showing in the final leaders debate on July 5. The rupiah rallied 0.7 percent to 11,625 per dollar as of 4.22 p.m. in Jakarta after advancing 1.5 percent yesterday, prices from local banks show.
The non-active Jakarta governor widened his lead over Prabowo Subianto to 3.6 percentage points in a poll released by Lingkaran Survei Indonesia yesterday, compared with a 0.5 percentage point advantage in a survey from the same company at the end of last month. Speculation Jokowi was leading in exit polls of voters outside of Indonesia over the weekend helped drive stock market gains, Andy Ferdinand, head of research at PT Batavia Prosperindo Sekuritas in Jakarta, said yesterday.
"The market was driven by the latest survey and the exit polls from the overseas vote," said Amica Darmawan, a fund manager at PT First State Investments Indonesia. "Looking forward, I think investors will have to go back to the economic fundamentals and it's hard to justify the gain for now."
A Roy Morgan poll last week showed Jokowi had a four percentage point lead, although the survey company said the race was "too close to call."
Volatility Surges
Local financial markets will be closed tomorrow for the elections and quick count results will become available in the afternoon. If the tallies aren't decisive, Indonesians will have to wait until July 21 or 22 for official results to be announced, and possibly until late August if there are legal challenges.
One-month implied volatility in the rupiah, a measure of expected swings in the currency used to price options, rose 44 basis points, or 0.44 percentage point, to 12.33 percent, data compiled by Bloomberg show. It touched 12.75 percent earlier, the highest level since Feb. 10.
"High volatility could remain if we don't get a clear winner tomorrow, as we can't depend on the quick count if the margin is smaller than three percentage points," said Suriyanto Chang, head of treasury at PT Bank QNB Kesawan in Jakarta. "A clear result, however, paves the way for rupiah to strengthen."
In the offshore market, one-month non-deliverable forwards climbed 0.7 percent to 11,697, trading 0.6 percent weaker than the onshore rate, data compiled by Bloomberg show. Bank Indonesia set a fixing used to settle the contracts at 11,695, compared with 11,787 yesterday.
Successful Auction
PT Bank Rakyat Indonesia's 5.9 percent jump provided the biggest boost to the benchmark stock index. PT Astra International, which has the largest weighting, climbed 2 percent and PT Bank Mandiri rose 2.3 percent.
Jokowi said in a televised debate on June 15 that he expects economic growth to exceed 7 percent with an improved regulatory framework. Former army general Prabowo wants to boost growth to as much as 10 percent by raising tax revenue and tapping the capital markets, Hashim Djojohadikusumo, his brother and economic adviser, said in a June 6 seminar in Jakarta. Gross domestic product increased 5.21 percent in the first quarter from a year earlier, the least since 2009.
The finance ministry raised 15 trillion rupiah ($1.3 billion) from a bond auction today, exceeding the 10 trillion rupiah goal, it said in an e-mailed statement today. Investors submitted bids for 2.2 times the amount offered.
The yield on Indonesia's 8.375 percent local-currency bonds due March 2024 fell four basis points to 8.06 percent, the lowest level since June 16, according to the Inter Dealer Market Association.
Before it's here, it's on the Bloomberg Terminal.
LEARN MORE