pursuits
In a World Cup With Aggressive Play, Yellow and Red Cards Vanish
By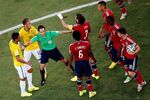 This year's World Cup has been setting records for TV viewership and excitement. Has that been coming at the cost of safety on the field?
The tournament-ending injury to Brazilian star Neymar in a game that became instantly notorious for the physical play allowed by the referees has sparked complaints that FIFA has directed referees to be lenient on penalties. Even that equally famous Luis Suarez bite didn't result in any punishment during the game itself.
The data doesn't lie: Yellow cards and red cards are down significantly, compared with any World Cups in the past quarter-century.

Some observers have suggested that additional factors could be behind the card drought:
• Players have learned to behave better during the games, leading to fewer cards.
• Referees have done a better job at managing the game through warnings, fouls, and free kicks such that they don't have the higher levels of retaliation that would require cards.
• Players and referees both know that FIFA wants the game sped up, suggesting that rougher play will be better-tolerated. Maybe that's the equation for high viewership: Let the players play rough, don't punish anybody, and create a ball that's so fast it's blowing through previous scoring records. The players can deal with their concussions later—after the cameras have been turned off.
Before it's here, it's on the Bloomberg Terminal.
LEARN MORE