Euro's Reserve Appeal Fades as ECB Prompts Decline
Candice Zachariahs and Ye Xie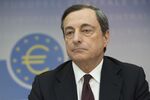 The European Central Bank's unprecedented stimulus measures are starting to dim the euro's allure among the keepers of foreign-exchange reserves.
After climbing for three straight quarters, the currency's share of central-bank reserves identified by the International Monetary Fund was unchanged at 24.5 percent from January through March, down from a record 28 percent in 2009. The euro was less attractive than a year earlier for 62 percent of central banks that took part in a private survey by Central Banking Publications released on June 23.
The interest-rate cuts, charge on deposits and liquidity programs that the Frankfurt-based ECB has implemented since early June to avoid deflation have made the 18-nation euro less attractive. Banks from JPMorgan Chase & Co. to Societe Generale SA predict it will lose out to currencies such as South Korea's won and the Australian dollar, favored for the higher yields paid by their bonds.
"Reserve managers are moving out of Europe into Asia," Sebastien Galy, a senior currency strategist at SocGen in New York, said in a July 3 phone interview. The ECB is engaged in "competitive devaluation."
Losing Year
The shared currency has declined 1.7 percent this year versus a basket of nine major peers tracked by Bloomberg Correlation-Weighted Indexes, on pace for its worst annual performance since 2011.
Allocations for 52 percent of the $11.9 trillion of international currency reserves are disclosed to the Washington-based IMF, with the dollar accounting for 61 percent of holdings, according to a June 30 report. The yen and pound each have about a 4 percent share. The Australian and Canadian dollars both represent less than 2 percent of global holdings.
Most participants in the Central Banking Publications survey said sentiment improved toward the dollar, pound, Chinese yuan, South Korean won and Australian and Canadian dollars, while the New Zealand, Chinese and Brazilian currencies looked the most attractive for future diversification.
Reserve managers will probably buy fewer euros and more Australian and Singapore dollars, won and yuan, said Galy.
Currency Defense
Total reserve holdings have more than tripled over the past decade as nations accumulated foreign-exchange war chests to enable them to protect the value of their currencies.
Because exchange-rate defense is the main purpose of building reserves, the low yields of European assets won't cause euro holdings to dwindle, according to Nomura Holdings Inc. At 1.22 percent, German 10-year note yields are about the lowest in 15 years relative to similar-maturity U.S. Treasuries.
"The first aim of FX reserve is to have some foreign funds to defend your currency if needed, not to speculate and return a profit," David Fritz, a currency strategist at Nomura in New York, said by e-mail on July 3. Lower euro-region returns "may at the margin effect reserve managers' desired allocation, but will likely not be their main consideration," he said.
The euro's decline this year in the basket of 10 major peers pares an 8.2 percent gain in 2013 that was its first since 2008 and the start of the global financial crisis. The shared currency has fallen 0.9 percent versus the dollar this year and was at $1.3616 as of 12:16 p.m. in New York.
Inflation Goal
Its losses accelerated after June 5, when the ECB cut its main refinancing rate to a record 0.15 percent and took its deposit rate below zero for the first time. President Mario Draghi said at this month's policy meeting he'll keep rates low for an extended period and reiterated the bank's commitment to boosting inflation to just under 2 percent, from 0.5 percent in June.
"Since the goal is higher inflation, and currency debasement is a proven path to that destination, the marked decline in the euro suggests that investors, and other central banks, are likely trying to get ahead of this story," Jonathan Lewis, the New York-based chief investment officer at Samson Capital Advisors LLC, said by e-mail July 3.
Lewis cited the Australian, Canadian and Taiwanese dollars, Chile's peso and the currencies of Nordic neighbors Sweden and Norway as longer-term beneficiaries.
For JPMorgan, India's rupee and Mexico's peso are the potential winners from a shift away from the euro.
Low euro-area yields are "a major incentive to diversify into higher-yielding currencies and assets," Kevin Hebner, a senior foreign-exchange strategist at JPMorgan in New York, said by e-mail on July 1. "The euro is already significantly over-owned."
Before it's here, it's on the Bloomberg Terminal.
LEARN MORE