Can Israel Turn This Dilapidated Building Into a Health-Tech Hub?
By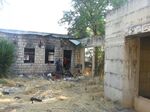 Erel Margalit, a lawmaker for Israel's Labor Party, wants to establish the country as the center for an emerging health-tech category known as medical food. The project, which aims to turn a neglected plot of land in Upper Galilee into a business hub for medical food, will face plenty of obstacles beyond landscaping.
Medical foods are designed to provide the special nutrients patients need to manage or treat their disease. They're not pills. While the U.S. Food and Drug Administration mandates that medical food can only be obtained with a doctor's prescription, it's actual food that's eaten normally or ingested through a feeding tube. Think: milk enriched with the precise amount of calcium for rickets patients, for example.
The promises of medical food have been around for decades, but few products have gone mainstream. Abbott Laboratories' Pedialyte for children and Ensure for adults have risen to prominence, as has Axona, a vanilla-flavored powder that can be added to drinks or soft foods to help treat Alzheimer's disease.
Margalit is betting medical food is finally poised for an explosion. The politician has a successful history picking smart investments in the private sector as a venture capitalist specializing in cyber-security, media and telecommunications. At the helm of Jerusalem Venture Partners, Margalit invested in Chromatis Networks, which Lucent Technologies bought for more than $4 billion in 2000; Cogent Communications Holdings, currently trading in the U.S. at a market value of $1.6 billion; and Qlik Technologies, valued today at $2 billion.
Medical food companies are looking to China as a potential growth area for their products. Los Angeles-based Targeted Medical Pharma said in May that it's in talks to team up with a "large Chinese pharmaceutical company" to sell its products there. Medical food products are expected to grow 5 percent annually in the European market, as the population ages and changing lifestyles increase the risk of contracting diseases, according to a March 2012 report from research firm Frost & Sullivan. Nestlé bought a medical food company called Pamlab last year.
Margalit is hoping Israel can help juice the medical food industry and add jobs to the country's underdeveloped north. Together with five heads of regional municipalities in Israel's Upper Galilee, where much of the country's agriculture is based, Margalit announced plans on July 6 to open a medical food center in an Ottoman-era building there.
If the group secures financing and interest from companies, it plans to renovate the area, and then fill it with startups, multinationals like Nestlé, local companies such as Teva Pharmaceutical Industries and even a performing-arts center. Margalit aims to build something similar to the business-and-lifestyle tech centers he started in Jerusalem and Beersheba.
"We can make the Galilee the world center for the next high-tech revolution that will combine food and agriculture," Margalit said in a phone interview. "I am going to approach every large company, including Teva."