Both NFL and NCAA Report Progress on Concussions
Paul M. Barrett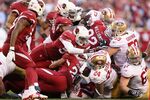 There's progress on concussions—incremental but heartening—in both the professional and collegiate football industries.
The National Football League (a $10 billion-a-year business) moved a step closer to wrapping up a more generous settlement with more than 5,000 former players worried about head injuries and related disease. And the National Collegiate Athletic Association (a $16 billion-a-year operation, when you combine football and basketball) announced sensible new rules to lessen risks of head injuries in practice.
NFL: In federal court in Philadelphia, the league and its plaintiffs'-lawyer antagonists won preliminary approval of a revised settlement that would provide hundreds of millions of dollars—without a cap—to address ex-players' claims that the NFL failed to warn them about the long-term risks of brain injury. U.S. District Judge Anita Brody said on Monday that the NFL's willingness to sweeten an earlier deal and create an open-ended fund to cover medical costs from dementia and additional disorders deserves initial approval. The judge scheduled a hearing in November to consider final approval. Depending on the number and nature of claims filed by retired players, the total value of the settlement could easily exceed $900 million.
NCAA: On the collegiate front, meanwhile, the Indianapolis-based sports association suggested that member schools follow the lead of the Ivy League and limit full-contact practice sessions. Bloomberg News reported that the recommendation "is part of a wider set of guidelines that came from six months of discussion between the NCAA, the College Athletic Trainers' Society, medical organizations, coaches, and administrators. They were created to 'generate a cultural shift within college athletics,' according to a statement on the NCAA website." Other suggested changes include requirements for medical care and instructions for the diagnosis and management of sport-related concussions.
Like the NFL, the NCAA acted under the pressure of litigation brought on behalf of former players. The proposed new guidelines would allow college football teams no more than two live contact practices a week during the regular season—a limit put in place by the Ivy League three years ago and enacted by the Pac-12 Conference before last season.
These developments won't make football "safe." Nothing will. It's a violent game. Medical science is only beginning to explain the long-term damage done by repetitive head-knocking. Year by year, it's becoming clearer that in high enough volume, collisions well short of "bell ringers" may lead to neurological disease. Athletes beware.
Before it's here, it's on the Bloomberg Terminal.
LEARN MORE