pursuits
A Champion Hot Dog Eater on How She Aces Corporate Job Interviews
By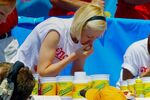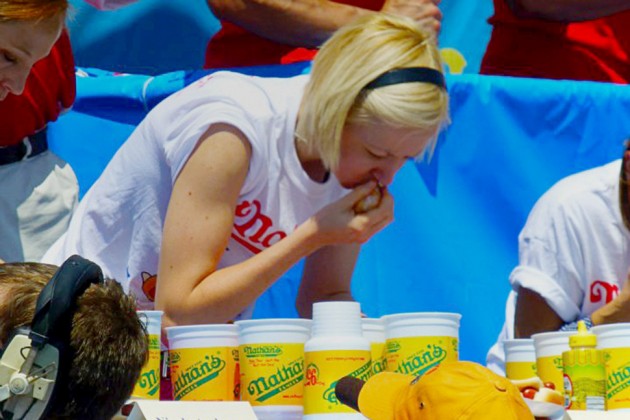 When the new MBA students at Michigan State University's Broad College of Business started to get to know each other last year, no one could beat Meredith Boxberger's icebreaker: She's one of the top competitive eaters in the world.
Boxberger, who calls herself "Deep Fried Diva" and expects to complete her MBA in 2015, finished fifth in the women's division of Nathan's annual Hot Dog Eating Contest on July 4. She wolfed down 18 dogs in 10 minutes on New York's Coney Island, falling short of last year's personal record—26 hot dogs.
Fittingly, the Canada native is a marketing intern this summer for a food giant, Mars Chocolate North America. Boxberger shares how she developed her competitive eating prowess and why employers love intern candidates who can gorge on hot dogs:
 
Bloomberg Businessweek: How did you get into competitive eating?
 
After finishing undergrad, I was in the food restaurant franchise business [managing a Little Caesars Pizza store] for about five years. I was working a ton of hours, not really doing anything outside of working every day. The years were flying by, and I wasn't having as much fun in my outside life as I wanted to in my twenties. I came up with this "life list." One of the craziest things I wanted to do was enter an eating competition. I figured I could try it because I used to be an athlete and always had a large appetite.
 
I went into my first competition thinking it would just be funny, and I ended up eating 5¼ medium pizzas in five minutes.
Is that the kind of anecdote you could share in internship interviews?
When I was interviewing in the fall for internships [at food companies], at first I wasn't sure whether to bring up the competitive eating thing. I talked to professors at the business schools, and they said: "If you want to get into food, that's super-distinctive." Instead of trying to hide it, I'd bring it up in interviews, and it was memorable.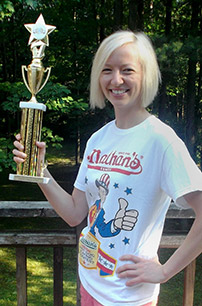 When you're at job conferences, where these [companies] see thousands of people in a day, it is something that makes you stand out. Any company that can appreciate that I'm a competitive eater would have a sense of humor about it. The most important thing I came to realize is that sharing the fact would help me see if I would be a good fit with the company.
Did you tell your MBA classmates?
My competitive eating came up right off the bat [my first year] because MBA people Google each other to see what everyone looks like before you get there. When classes start, you have to introduce yourself, explain what you do, and give an interesting fact. I always win the "interesting fact about yourself" question. Quite a few [classmates came] up to watch on July 4. Everyone loves it.
What happened in the contest? You didn't reach your personal record.
The weather was kind of crazy and my empty plates were flying through the air [from the wind]. That kind of decreased everybody's totals. Overall, I was pretty happy with how I ended up doing, but it wasn't necessarily the number I wanted. I don't beat myself up too badly about it.
How did you feel afterward?
I felt fine after. We went to the bar on the boardwalk after the competition and watched the rebroadcast on ESPN. I had a couple drinks, then went back to my hotel and had a pretty good nap before the after-party. I felt fine the next day and went on an extensive hike to work off the hot dogs. Then it was back to work on Monday.
Before it's here, it's on the Bloomberg Terminal.
LEARN MORE