A Struggling Business School's Long, Strange Saga Gets Another Twist
by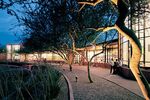 Thunderbird School of Global Management's quest for an institutional partner to rescue it from financial perdition is nearing its conclusion. Again.
Late last week, the Phoenix-based business school announced a deal with Arizona State University that would make Thunderbird, which has operated independently since 1946, part of the state university system. The two schools have signed a letter of intent and are working to complete the merger by the end of the month, according to a press release. If completed, the deal would end a controversial and often convoluted process that began when cash-strapped Thunderbird announced a proposed partnership, since abandoned, with for-profit educator Laureate Education in March 2013.
For Thunderbird, the motivation for the Arizona State deal is a lifeline. The school is burdened with debt and ended its fiscal year 2013 with an $8.7 million loss. Full financial terms haven't been made public, but the merger is expected to save money by giving Thunderbird access to ASU's academic and administrative services. That means some Thunderbird faculty will lose their jobs. On the bright side, "the Thunderbird historic global education vision will be sustained and extended," Arizona State President Michael Crow said in a statement.
Arizona State's motivations are less clear. Under the abandoned deal, Laureate would have put down cash for a piece of the Thunderbird brand. That would have given the for-profit company ties to a well-respected MBA program, an association it planned to exploit by launching new campuses in foreign cities.
Arizona State already has W.P. Carey School of Business, which Bloomberg Businessweek ranked No. 49, four spots behind Thunderbird, in its most recent appraisal of full-time MBA programs. The university's designs on Thunderbird fit with an aggressive growth strategy: By expanding its campus to accommodate new students and introducing new degree programs, many of them online, Arizona State has become the largest public university in the country.
As for how the state university system intends to juggle two Phoenix-area business schools, the answer is they won't. "We don't intend to offer competing MBAs," says Arizona State Senior Vice President Richard Stanley, adding that the two schools are still in the early stages of deciding which Thunderbird programs will survive the move. Candidates include internationally focused master of science degrees in management, marketing, and finance. That means the students entering Thunderbird this fall could be the school's last class of full-time MBAs.
More broadly, Stanley says the deal will allow for collaborations between Thunderbird's international business programs and Arizona State's existing specializations in international politics and sustainability, and could eventually lead to undergraduate programs in international business. Also: Thunderbird's executive education programs are "a real strength of that we want to take advantage of," Stanley says.
If the Thunderbird MBA is eliminated, the new plan may face opposition from the same angry alumni who rallied against the Laureate proposal. That earlier deal didn't fly with many grads, who worried that the whiff of the controversial for-profit education industry would taint the Thunderbird brand. Five members of the school's board of trustees quit as details of the Laureate proposal emerged, and a disgruntled group of MBAs formed the Thunderbird Independent Alumni Association to stir dissent.
In one strange twist, the TIAA floated a proposal to raise millions of dollars in donations to keep Thunderbird afloat while the school sought a permanent solution to its financial woes. In return, the alumni would gain control of Thunderbird's board of trustees in what amounted to the philanthropic version of a hostile takeover. Thunderbird didn't accept the offer, and the TIAA's account of negotiations doesn't portend collegial relations between the school and the independent alumni group in weeks to come.
For the moment, the TIAA's executive director, Will Counts, said in an e-mailed statement that his members "wish to remain optimistic." Still, he was surprised "that the alumni had to first find out about the [Arizona State] merger through the media rather than from our alma mater."
Before it's here, it's on the Bloomberg Terminal.
LEARN MORE