Thailand's Junta Struggles to Turn Around the Economy
By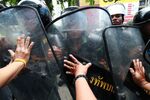 The generals who now run Thailand seem to admire the way military leaders next door stage their coups. When the army in Myanmar (aka Burma) crushed a pro-democracy movement in 1988, a junta with the war-is-peace and ignorance-is-strength name of the State Law and Order Restoration Council kept Nobel Laureate Aung Sang Suu Kyi locked up and the rest of the country in isolation for years. No quick return to democracy in Myanmar. The regime stayed in power for decades before finally launching political reforms in 2011.
After taking charge in May, Thailand's junta chose a SLORC-like name, the National Council for Peace and Order, and rounded up opponents and arrested people who dared to read Orwell's 1984 in public. On Friday, a top officer of Thailand's military compared his colleagues with the generals who made Myanmar an international pariah state for decades. "Myanmar's government agrees with what Thailand is doing in order to return stability to the nation," Tanasak Patimapragorn, supreme commander of the armed forces, said on Friday, according to Reuters. "Myanmar had a similar experience to us in 1988, so they understand."
The Thai junta hopes others are just as forgiving. It has been trying to send a message that all is good again in the kingdom. Last month, for instance, the regime lifted the curfew that had been in place since it decided the elected politicians could no longer be trusted to run things. Ending the curfew was supposed to send a message to tourists that it was once again safe to visit Thailand, but tourist arrivals in June nonetheless plunged 37 percent, following a 22 percent drop in May.
In other sectors the junta hasn't made progress either. Important infrastructure spending that could support short-term growth and help Thailand's future prospects is up in the air. After the worst floods in 70 years devastated the economy in 2011, the government of then-Prime Minister Yingluck Shinawatra proposed spending about 300 billion baht ($9.25 billion) on water management projects, but their status is now unclear, according to a report published Friday by Nomura.
Moreover, the capital's Suvarnabhumi airport badly needs an expansion: It has a capacity of 45 million passengers per year but is now handling 51 million passengers. Work was supposed to start on the next phase of the airport by year's end and be completed by 2017. But with the generals concerned about the cost of the expansion, those plans are now on hold, the president of the Airports Authority of Thailand told reporters on Thursday.
The junta is trying to talk up the economy. In a speech on Friday, junta supremo Prayuth Chan-Ocha said the regime will make sure the baht is stable to help exporters. He also wants state banks to lend more funds to poor Thais. Best of all, the unelected military officers who deposed the democratically elected leadership will make sure there are "good and honest people" in important positions.
So are happy days here again in Thailand? According to Prayath, the economy could expand more than 2 percent this year. For a developing country such as Thailand, that's anemic, but it's still better than what the Bank of Thailand expects: The central bank last month cut its growth forecast to 1.5 percent from its previous forecast of 2.7 percent.
Even that 1.5 percent figure may be too good to be true. The Thai economy will grow just 1.1 percent this year, according to a report published Friday by Nomura's Euben Paracuelles and Lavanya Venkateswaran. Moreover, the Nomura economists don't see much of a recovery next year, either, saying Thailand's GDP will expand 3.3 percent in 2015. Yes, the junta is trying to get the economy moving again after months of political paralysis, announcing on July 2 that it has no plans to raise VAT and corporate taxes for at least another year. but those steps "are unlikely to push growth higher," they write. "The latest data on household debt levels and indicators of tourist arrivals show a still fragile economy amid some signs that consumer confidence may be improving."
Ordinary Thais do seem to be feeling better. After steadily dropping from the second quarter of last year, the Thai index measuring consumer confidence has increased the past two months. The index, which was at 84.8 in March 2013, hit bottom at 67.8 in April this year—the lowest in 13 years. It has now rebounded, however, to 75.1. The increase "may reflect optimism that the country's military coup will create long-term stability that fuels economic growth," Bloomberg Industries analyst Thomas Jastrzab wrote in a report published Friday.
Before it's here, it's on the Bloomberg Terminal.
LEARN MORE