Soccer Concussions Are More Frequent Than You Think
by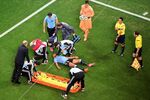 In addition to the many enduring memories of great performances from this year's World Cup, a slew of head injuries will linger as well. Brazilian star Neymar is going to miss the rest of the tournament with a broken vertebra, sparking complaints that FIFA has encouraged referees to be more lenient about dangerous play. Yellow and red cards have been handed out at the lowest levels since 1986.
This purported attempt to speed up play may have tragic consequences. Soccer is already one of the most dangerous sports—more dangerous than you might expect, according to a wide variety of data, especially in terms of concussions.
The biggest concussion story from the World Cup centered on the controversy of Uruguay's Alvaro Pereira being allowed to remain in the game after taking a knee to the head against England. FIFA's current protocols are not good enough to protect the footballers, which is why players' union FIFPro is calling for more action.
The problem is clearly not just a professional one. According to the Center for Injury Research and Policy, more high school soccer players had concussions in 2010 than basketball, baseball, wrestling, and softball players combined. In the CIRP's report (PDF) for the 2011-12 school year, concussions represented 34 percent of all injuries in boys' soccer competitions and 30 percent in girls' soccer.

American football, of course, tops the list as the high school sport with the most concussions—but girls' soccer ranks second. Soccer has seen a 58 percent increase in the number of children suffering concussions over the past decade. Some experts believe that banning headers in youth soccer is one way to limit injuries, because the combination of less-mature brains, weaker neck muscles, and poor heading technique contributes to the damage. While contact between head and ball isn't directly responsible for most concussions, the long-term accumulation of those small impacts over time could cause problems with the brain, affecting thinking, concentration, and memory.
The biggest danger of concussions comes from the act of going up in the air—head first—which leads to such risky situations as hitting another player's knee. 

Another memorable head injury occurred last year when goalkeeper Boubacar Barry lost consciousness after hitting the post while trying to make a save. The data show that goalkeepers tend to be the most at risk of head injury, because they are often diving onto the ground and colliding with other players. Their risk of head injury is similar to skydivers and pole-vaulters.
Before it's here, it's on the Bloomberg Terminal.
LEARN MORE