Mexico's Grand-Bargain Dealmaker Is Back in Action
Eric Martin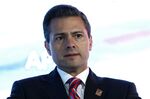 Months behind on a plan to get laws implemented to support last year's sweeping constitutional reforms in energy and telecommunications, Mexican President Enrique Pena Nieto is back in deal-maker mode.
His administration has reconciled with leaders of the key opposition National Action Party, known as PAN, after bill negotiations fell apart in June, and struck deals to put legislation on the verge of congressional approval.
With the secondary laws forming an essential part of Pena Nieto's plan to boost economic growth by luring private investment to the oil industry and cutting telecommunication costs, Grupo Financiero Banorte SAB and Bank of Nova Scotia say the new push will bolster investor confidence and rekindle a bond-market rally that faltered last month. Banorte predicts yields on the government's benchmark peso bonds due in 2024 will drop 0.17 percentage point by September to 5.6 percent, the lowest in more than a year.
"There's good will on the part of the political parties to carry out approval of the secondary laws," Alejandro Padilla, a strategist at Banorte, the country's biggest publicly traded bank, said in a phone interview from Mexico City. "Passage will be an important advance for Mexico's reform efforts, improving the nation's risk premium, and therefore should be positive for bonds."
Surpassing Chile
The government projects that the energy measures alone will increase the country's long-term annual economic growth rate by 1 percentage point and may attract as much as $30 billion a year in foreign direct investment. BlackRock Inc. Chief Executive Officer Laurence D. Fink wrote in a blog post last month that the new laws will help unlock the country's "true potential as an economic powerhouse."
Yields on the bonds due in 2024 have fallen 0.67 percentage point this year, more than double the average decline in emerging markets, according to Bank of America Corp.
Pena Nieto's press office declined to comment on market speculation.
In international markets, Mexican debt has rallied too. The cost to protect the country's bonds against default has dropped 0.22 percentage point this year to 0.70 percentage point and last month fell below the cost for Chile, which is rated four levels higher at AA- by Standard & Poor's, for the first time in data going back a decade, according to CMA Ltd. Mexico's cost was 0.99 percentage point when Pena Nieto took office in December 2012, according to CMA.
Mexico's peso declined 0.2 percent to 13.0059 per dollar at 3:11 p.m. in New York.
Grand Bargain
One risk for bond buyers is that gains could be undone by a retreat in U.S. Treasuries, which act as a benchmark for Mexican yields, said Siobhan Morden, the head of Latin America strategy at Jefferies Group LLC. The cost to protect Mexico's bonds against default soared to 1.62 percentage points in June 2013 as Treasury yields climbed after the Fed signaled it would begin to reduce the pace of its asset purchases.
On his second day in office, Pena Nieto signed a pact with opposition parties -- a step akin to the Grand Bargain that pundits have called for in the U.S. -- to revamp the state-controlled oil industry and reverse nine straight years of output declines. Other constitutional amendments expose the country's dominant phone company, billionaire Carlos Slim's America Movil SAB, and broadcaster, Grupo Televisa SAB, to more competition.
Senate Passage
To help implement those amendments, legislators are now tasked with passing secondary laws, with a simple majority required in both chambers of Congress. While the ruling Institutional Revolutionary Party, or PRI, and PAN together hold about two-thirds of seats in the lower house and almost three-quarters in the Senate, their political accord has frayed.
Congress missed a December target for approving the telecommunications rules and an April goal for the energy regulations. Talks broke down last month as PAN officials complained that the PRI wasn't moving fast enough to get states to ratify changes designed to crack down on alleged election abuses.
They're now mending those differences. Two weeks ago, PAN officials rejoined oil-law negotiations. Jorge Luis Preciado, the PAN's leader in the Senate, said June 25 that a joint oil bill draft will be ready shortly.
The Senate passed telecommunications rules on July 5, and now they're headed to the lower house for debate. They would force America Movil and Televisa to face penalties as long as they keep serving more than half of Mexico's telephone and TV users. America Movil, which controls 70 percent of Mexico's mobile-phone market, would also be barred from charging fees to rivals for connecting calls to its network and required to eliminate long-distance charges for all carriers in 2015.
Coming Soon
Manlio Fabio Beltrones, the PRI leader in the lower house, predicted in a Twitter post on July 5 after the Senate's approval that the lower house will pass the telecommunications regulations tomorrow. He also said on June 29 that he sees the chamber approving the energy rules by the end of July.
Getting secondary energy laws inked now is important because the constitution requires Pena Nieto to submit his proposal for next year's budget to Congress by Sept. 8; the lower house has until Nov. 15 deadline to pass a spending plan. The government will need to know its likely revenue from the oil industry under the new rules, said Ociel Hernandez, a strategist at Grupo Financiero BBVA Bancomer SA.
"The reforms mean more jobs, more spending and more economic growth," said Omar Saavedra, a strategist at Bank of Nova Scotia in Mexico City, who recommends buying fixed-rate peso-denominated government bonds due in 2018. "That helps to lower the perception of risk in Mexico."
Before it's here, it's on the Bloomberg Terminal.
LEARN MORE