Longer Lines Loom for U.S.-Bound Fliers on Device Checks
Thomas Black, Jeff Plungis and Mary Schlangenstein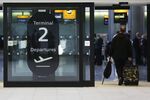 U.S.-bound airline passengers face longer lines at some airport security checkpoints abroad as a new U.S. rule requires fliers to turn on electronic devices to show that phones, laptops and tablets aren't hiding a bomb.
Fliers heading to the U.S. also can expect different kinds of pat-downs and shoe checks as the Transportation Security Administration tries to create multiple layers of security that work together to more effectively detect threats, according to a person familiar with the program.
TSA won't specify the airports where the enhanced screening is being required, said the person, who wasn't authorized to speak publicly and asked not to be identified after the agency disclosed the inspections on July 6. U.S. officials also aren't discussing how carry-on electronics might be used to conceal weapons from airport screeners.
For travelers like Louis Seno, who already are accustomed to more-rigorous scrutiny in the U.S. than elsewhere, the extra measures promise to add to the hassles of navigating airports.
"This is going to be cumbersome," said Seno, chairman emeritus and special adviser to the board of Jet Support Services Inc., a Chicago-based provider of aircraft maintenance programs. Seno flew to Europe in May and is traveling to the U.K. next week. "Think about the lines in security. This could make it real nasty."
Heathrow's Warning
London's Heathrow airport, Europe's busiest, has said it's among the facilities where stepped-up electronics checks are in place. The airport told passengers to make sure electronic devices are charged because units that don't switch on may not be allowed onboard planes. British Airways also warned transfer travelers not to deplete power on devices during the first part of their journey.
"Time is precious in that environment," said Robert Mann, president of aviation consultant R.W. Mann & Co. "If the screening time goes up, then the line length goes up exponentially."
Airport footwear inspections became standard in the U.S. after a U.K. citizen, Richard Reid, tried to ignite explosives in his high-top sneakers on a flight to Miami in 2001. In 2006, carry-on liquids became a security focus after U.K. police said they foiled a plot to blow up U.S.-bound jets.
The latest security steps could spread to airports within the U.S., said Mann, who is based in Port Washington, New York. "If you inject the same sorts of delays into a domestic process, the lines go out the door for that too."
Laptop Risk?
Seno said he envisioned a scenario of working on his laptop while airborne until the battery drains and then having to rush to a connecting flight without time for a recharge.
"What are you going to do with your laptop? Are they going to confiscate it?" he said. "I would go through four or five laptops a year."
Homeland Security Secretary Jeh Johnson, whose department includes TSA, told NBC's "Meet the Press" on July 6 that the U.S. government had taken "appropriate measures to deal with the existing situation and not unnecessarily burden the traveling public."
The TSA may be hesitant to expand time-consuming screening at domestic airports just as it speeds up the process with its Pre-Check program for expediting passage through checkpoints, said Arnold Barnett, a Massachusetts Institute of Technology professor who has done statistical work on aviation security.
"The natural desire to avoid inconveniencing people should not reduce the effectiveness of the security measure," Barnett said. "I understand the reluctance, but maybe there's too much reluctance."
Before it's here, it's on the Bloomberg Terminal.
LEARN MORE