German Mining Graveyard Bochum Mimics Pittsburgh Revival
Tino Andresen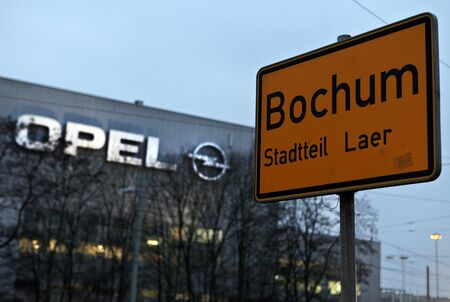 For a lesson in how to survive industrial collapse, the German city of Bochum has beaten all the odds. Now it's in recovery mode once again, and it's taking inspiration from Pittsburgh to reshape its fortunes.
Emerging from the ashes of World War II, when the town that armed Adolf Hitler's military machine was razed in bomb raids, Bochum rebuilt its economy on mining and steel. Decades later, the city of 360,000 people turned to manufacturers like Nokia Oyj and Adam Opel AG to haul it out of the crisis that crippled those industries, destroying 35,000 jobs from 1970 to 1983.
As carmaker Opel prepares to close its factory with 3,300 people at the end of this year and steelmaker Outokumpu Oyj takes steps to shutter its melt shop with 450 staff in 2015, Bochum needs a new survival strategy. Ruhr University, now the city's largest employer with a staff of 5,500, is powering a shift that draws parallels with the revival of Pittsburgh, the Pennsylvania town that came back from the brink after the U.S. steel industry's collapse in the 1980s.
"It's obvious to compare" the two cities, said Uwe Neumann, a regional economy researcher at the Rheinisch-Westfaelisches Institut fuer Wirtschaftsforschung e.V. institute in nearby Essen. "The location and the population have proven adaptable. The all-hands-on-deck mentality and the willingness to take your destiny into your own hands play a very important role and are a significant advantage."
Science Hub
Helped by policies that paved the way for the conversion of abandoned steel-mills, Pittsburgh -- a town of about 300,000 people -- is recasting itself as a high-technology location with the help of Carnegie Mellon University. The University of Pittsburgh's Medical Center is a world-renowned nonprofit enterprise with more than 62,000 employees.
Former Carnegie President Robert Mehrabian is credited with constituting the start of Pittsburgh's revival in the 1990s in a similar manner to the changes afoot in Bochum. Ruhr University is helping to mold the German town into a science hub with a focus on information technology and health care.
"We're confident of making the turnaround," said Helmut Diegel, managing director of Bochum chamber of commerce and industry. "We just need to get off on the right foot."
Immortalized in the 1984 song by German rock singer Herbert Groenemeyer as having a "pulse of steel," Bochum is one of more than a dozen cities in a metropolitan region spanning the Ruhr, Rhine and Lippe rivers that make up Germany's largest urban area, according to Eurostat.
Industrial Heartland
Fifth in Europe after London, Paris, Madrid and Barcelona, the agglomeration with more than 5 million people is the industrial heartland of North Rhine-Westphalia, the most populous of Germany's 16 states. Similarly, Pittsburgh is the center of a metropolitan area of about 2.4 million people, according to 2010 figures from the U.S. Census bureau.
Ruhr University, situated on the outskirts of Bochum, is the biggest of the city's six graduate schools and the region's oldest. It was the first German university to be established after World War II. All six contribute about 1 billion euros ($1.4 billion) to the local economy.
Starting out with about 1,000 students in 1965, the number at Ruhr University stands at more than 40,000 today. Its growth has spurred an influx of young people to the city, more of whom stay than leave, according to Neumann.
'Location Factor'
A 1.3 billion-euro project is underway to expand and modernize the campus by 2025. In October, the university leased a five-story building at the heart of Bochum's pedestrian area and is renting lecture halls in the Bochumer Fenster shopping mall, about 5 kilometers (3 miles) from the campus. The U35 subway line runs every two minutes from the city center to the university grounds.
"It's an important location factor that has put Bochum a step ahead of the other cities in the Ruhr region," said Neumann.
Though unemployment at 10.2 percent is 3.7 percentage points above the German average, Bochum's rate is lower than in the neighboring Ruhr-region cities of Gelsenkirchen, Dortmund and Duisburg. The number of people out of work fell 13 percent to about 19,000 last year from about 22,000 in 1998, a steeper drop than the average 11 percent decline for North Rhine-Westphalia as a whole, according to the Federal Labor Agency.
Nokia Exit
About 2,000 jobs have been created at the site Finnish telecommunications company Nokia left in 2008 to relocate to lower-wage Romania, restoring almost all of the jobs lost from Nokia's withdrawal, according to Thelen Hausverwaltung GmbH.
Six years ago, Essen-based property developer and manager Thelen bought the Nokia site, where previously Graetz KG produced television sets, and has spent 15 million euros since then developing it. Renters, which include Deutsche Post AG's DHL, TNT Express NV, Neovia Logistics Services LLC and Roeser Medical GmbH, are mostly involved in package deliveries and light industry.
The city has also begun to map out the next chapter for the Opel plant. As DHL hatches plans to build a distribution center with a workforce of as many as 600 people, the site has also become a target for university spinoffs.
Ruhr University is an incubator for startups like G Data Software AG, founded as a garage shop in 1985 by two students who pioneered commercial virus protection software.
Today, the company employs 460 people, with more than 360 in Bochum, and it took steps to establish its new headquarters in the city earlier this month amid plans to double the number of staff in coming years, according to Thorsten Urbanski, a G Data spokesman.
Health-Care Industry
The company has partners in 90 countries and sells products in 14 languages for private users as well as corporate and institutional clients. A partnership in which it develops commercial software with Ruhr University's Horst Goertz Institute for IT-Security "is very important for us," Urbanski said.
The colleges in Bochum are also spawning a health-care industry, which provides almost one job in eight, according to the local employment agency. Companies like Roeser Medical, located on the former Nokia site, VISUS Technology Transfer GmbH, iSoft Health GmbH, Aesculap Akademie GmbH and Groenemeyer Institut fuer Mikrotherapie provide medical products and services.
This is Bochum's "chance to become Europe's industrial heartland," said chamber of commerce director Diegel.
To be sure, Bochum's population has yet to return to 1975 levels, when the number of residents peaked at 435,000 as the city absorbed the nearby town of Wattenscheid. The last time the number of citizens stood at more than 400,000 was in 1997.
Small Companies
Established companies have struggled to stay in business. Gebr. Eickhoff Maschinenfabrik & Eisengiesserei GmbH, which survived the Franco-Prussian War, hyperinflation in the 1920s and two world wars since starting out as a small foundry in 1864, is one of about 15,000 small and medium-sized companies operating in Bochum.
From his office a short distance from the cluster of pubs and restaurants known locally as the Bermuda Triangle, Ralf Wittor relates how the mining-industry supplier almost sank without a trace.
Wittor, 49, who has worked at the company for 13 years, runs its gear-sytems unit. Eickhoff's last brush with death came in the 1990s, he says.
"The end of mining in the Ruhr region was almost the end of Eickhoff," Wittor said. Today, the company employs 1,800 people, almost three times as many as it did 20 years ago, and sales at his unit may surpass revenue from the mining-industry division for the first time this year, he said.
Eickhoff "has succeeded in making the structural change," said Eva-Maria Kerkemeier, a representative of the IG Metall labor union.
Before it's here, it's on the Bloomberg Terminal.
LEARN MORE