China's Xi Ratchets Up Pressure on Japan
By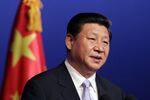 In a clear sign that China's leaders have little interest in cooling tensions with Tokyo, President Xi Jinping attacked Japan today for misrepresenting its wartime aggression, in a nationally televised speech.
"History is history and facts are facts. Nobody can change history and facts," Xi said at a morning ceremony in Beijing commemorating the start of what China refers to as the War of Resistance Against Japanese Aggression. "Anyone who intends to deny, distort or beautify history will not find agreement among Chinese people and people of all other countries," Xi said, reported the official Xinhua News Agency.
A key military clash occurred 77 years ago today, as Japanese troops prepared to invade Beijing. While Japan had already occupied China's northeast since 1931, China marks the date of July 7, 1937, as the start of Japan's full-scale invasion and Beijing's entry into the war. "It's a pity that a small minority of people still ignore iron-clad history and the fact that tens of millions of innocent people sacrificed their lives in the war," Xi said.
The Chinese people's resistance against invasion is a "heroic ode" in which Chinese patriots were "bathed in blood," Xi said before more than 1,000 people, including top Chinese officials and a small number of veteran troops. The ceremony "should serve to recall history, commemorate martyrs, cherish peace and sound a warning for the future," Xinhua reported.
Today's tough words come amid continuing tensions between the two countries over the uninhabited Diaoyu Islands in the East China Sea. Japanese Prime Minister Shinzo Abe further angered Beijing when he visited Tokyo's Yasukuni shrine in December, a temple that honors Japanese soldiers but also its war criminals. And on July 1, Japan's cabinet passed a resolution reinterpreting its pacifist constitution so its military can defend its allies. "War is hell, but there are always devils who try to spark war and trample peace under foot," said a Xinhua commentary yesterday, blaming right-wing Japanese for the series of "provocations."
Before it's here, it's on the Bloomberg Terminal.
LEARN MORE