pursuits
Archer Daniels Midland Spends $3 Billion to Buy Taste
By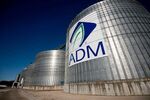 Archer Daniels Midland announced on Monday that it will acquire Swiss natural ingredients company Wild Flavors for €2.2 billion ($3 billion), giving the American commodities company a large presence in the flavors market, particularly for beverages.
"Natural flavor and ingredients is one of the largest and fastest-growing consumer trends in both developed and emerging markets, and Wild Flavors is the world's leading provider of natural flavor systems to the food and beverage industry," ADM Chief Executive Officer Patricia Woertz said in a press release. While ADM is known for developing solutions for food texture and function (like emulsifiers) and nutrition (vitamins and supplements, fiber, and protein), Wild Flavors is focused on taste. "The piece of the total package that we have not offered to date is taste, and taste is king," Woertz said on an investor call.
Wild Flavors—which has just two shareholders, Chairman Hans-Peter Wild and investment firm KKR—also owns Capri Sun, which is not part of the ADM deal and will remain under the ownership of the Wild family, the company's founders. Wild Flavors has an estimated 2014 revenue of about €1 billion and makes ingredients such as natural flavors and extracts, natural food coloring, sweeteners (including stevia), seasonings, and fruit juice concentrates that are used in everything from beverages and cereals to snacks and toothpaste.
ADM says the acquisition positions it to develop products suited to consumers' growing preferences for reduced sodium, sugar, and fat. Other companies also are looking at new flavor alternatives. Morton Salt recently announced a new food lab that will work on reduced-sodium products. Also, because commodities such as corn and soy can be volatile, in the past few years ADM has expanded into more stable, higher-margin businesses.
In a presentation (PDF), ADM pointed out that about one-third of global foods and drinks introduced last year used natural colors or no preservatives. The global market for natural flavors was valued at $3.5 billion in 2011 and will grow to an estimated $5 billion by 2017, according to researcher MarketsandMarkets.
Before it's here, it's on the Bloomberg Terminal.
LEARN MORE