Iraq Plus U.S. Exports Drives Up Long-Term Oil: Chart of the Day
Grant Smith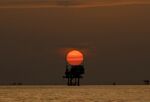 Last month's escalating violence in Iraq persuaded traders that U.S. oil prices for later this decade should be higher. The prospect America could start exporting more crude strengthened their conviction.
The CHART OF THE DAY shows gains in West Texas Intermediate futures for 2017 contracts onwards, first in the period when Islamist militants captured towns in northern Iraq, and then after the U.S. Commerce Department confirmed its approval of the shipment of lightly-processed condensate.
The threat to Iraq's oil facilities prompted the International Energy Agency to curb capacity growth forecasts for the nation that's supposed to add the most new barrels to world markets by 2035. Brent crude, the global benchmark, rose to a nine-month high after the fighting and longer-term prices for the grade also rallied. The U.S. decision on shipping condensate is a step toward relaxing its general prohibition on crude exports, according to Citigroup Inc.
"This has given some added oomph to WTI," Seth Kleinman, the bank's London-based European head of energy research, said by phone July 1. "Iraq got the back of Brent moving, and that's going to take WTI with it. And then the condensate export move is going to put some wind in the sails of WTI. It should keep on moving."
Pioneer Natural Resources Co. said on July 25 that the Commerce Department had confirmed the company could ship condensate overseas, provided that it's first subject to preliminary distillation. Citigroup estimates the U.S. can export as much as 1 million barrels of crude a day by the end of the year, including 300,000 a day of condensate, according to a June 25 report.
Price gains at the back-end of the WTI curve are appropriate because the glut of high-quality crude many traders were anticipating is now less certain, Amrita Sen, chief oil markets analyst at consultant Energy Aspects Ltd., said in a report.
Before it's here, it's on the Bloomberg Terminal.
LEARN MORE