Gowex to File for Insolvency; CEO Quits on Fake Accounts
Rodrigo Orihuela and Charles Penty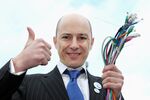 Let's Gowex SA, the Wi-Fi provider that was seen as a rare success story of Spanish entrepreneurship, will file for insolvency and said its chief executive officer resigned after admitting he presented fictitious financial accounts for at least the past four years.
The board accepted CEO and founder Jenaro Garcia's resignation after he took full responsibility for fake accounts, Madrid-based Gowex said yesterday. The shares have dropped 60 percent since July 1, when short-seller Gotham City Research LLC said the company was worthless because it inflated revenue.
Gowex's fast growth -- a sevenfold increase in revenue over three years and a 10-times surge in its stock in 15 months -- is an anomaly in Spain, which has failed to foster successful technology startups with global reach. The company was one of the best performers in Madrid's MAB stock exchange, an alternative funding source for small companies promoted by Prime Minister Mariano Rajoy's government.
"I made a voluntary confession in court," according to a posting on 46-year-old Garcia's Twitter page yesterday. "I want to collaborate with justice. I will face the consequences." The message followed an earlier note conveying an apology "to everybody. I am truly sorry."
Calls to Garcia and a Gowex press officer went unanswered. An operator at Gowex's switchboard who declined to give her name said no one was available to comment.
Home Sale
Citing a former company director it didn't identify, El Confidencial reported on its website today Gowex has falsified accounts for at least eight years.
Garcia founded Gowex in 1999, at a time when investors were turning to Spanish real estate as the dot-coms were going bust. A former futures trader trainee and asset manager, Garcia persuaded his wife to sell their home and use the 150,000 euros ($204,000) from the sale to fund the Internet startup.
Gowex, which also provides support services for mobile-phone carriers, said July 1 that Gotham's report "mixed lies with facts." On July 4 it said it would hire PricewaterhouseCoopers LLP to review its accounts. The stock, which has been halted since July 3, remains suspended in Madrid today. It has a market value of 573 million euros.
A press officer at the national police said they had no knowledge of any action against Gowex. Jose Antonio Diaz, who told Bloomberg News last week that he acts as Gowex's auditor, didn't respond to calls to his mobile phone.
'Global Vision'
As recently as March, Gowex received an award at a ceremony in Bilbao, Spain, presented by Rajoy and Economy Minister Luis de Guindos to recognize a Spanish company with a global vision.
"The financial accounts of the company for the last four years, at least, do not show a full and fair view of the company's situation," Gowex said in its statement yesterday.
JPMorgan Chase & Co. and Danske Bank A/S funds are among investors exposed to Gowex, according to disclosure by the companies and data compiled by Bloomberg. Valiant Capital Management LP, a San Francisco-based firm, shorted the stock, according to an April regulatory filing.
Ruby Sekhon, Valiant's general counsel, didn't immediately return a message seeking comment. Representatives for JPMorgan and Danske Capital declined to comment.
Gowex is one of 23 stocks on the MAB exchange, which includes companies from toy retailer Imaginarium SA to carbon fiber manufacturer Carbures Europe SA, whose stock is up 114 percent this year. Zinkia Entertainment SA, which produces a cartoon television series, sought creditor protection in 2013.
Pescanova Insolvency
Spanish fish-farm operator Pescanova SA filed for voluntary creditor protection in April last year after it was found out that the company had more than 2 billion euros of undisclosed debt, prompting investigations involving the company's chairman at the time. Pescanova exited creditor protection this year after a court approved a restructuring deal with lenders.
"It looks like an isolated case in the Spanish context, but I do think it is significant in the context of MAB -- it's a market that's relatively new and has had some failures and the vigilance of the information about the companies has not always been adequate," said Jose Ramon Pin, a professor at the Barcelona-based IESE business school, referring to Gowex.
The MAB is a "market basically for SMEs and the sort of company that quotes there tends to have more aggressive strategies," he said.
Gotham Targets
Gowex also trades on the New York OTC and NYSE Euronext Paris markets. The company presents earnings every six months and based on its latest report revenue reached 183 million euros in 2013, data compiled by Bloomberg show. It had 29.8 million euros in debt as of Dec. 31, 2013, according to the data.
Gotham said Gowex's "actual" wireless revenue is at most 10 percent of what the company reported, and about 90 percent of its telecommunications revenue "originated from undisclosed related parties."
The researcher said in its Gowex note that it may or may not benefit from the report. Gotham doesn't identify its managers or stakeholders on its website.
Prior to its Gowex's note, which was first reported by Bloomberg News, Gotham has published pieces on four other companies on its website, dating back to February 2013: Ebix Inc., The Tile Shop Holdings Inc., Blucora Inc., and Quindell Plc. While all four are down at least 20 percent from the time when the reports on them were published, they are all trading above the target prices suggested by Gotham.
Employees are in "absolute shock," according to an e-mailed statement released by Gowex's communication department. "We remain in our positions to keep providing services to take the company forward, in spite of the circumstances," it said.
Before it's here, it's on the Bloomberg Terminal.
LEARN MORE