Telefonica to Buy Mediaset Stake in DTS Pay-TV for $401 Million
Rodrigo Orihuela and Daniele Lepido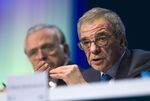 Telefonica SA agreed to buy Mediaset SpA's stake in Distribuidora de Television Digital as it seeks full ownership of the Spanish pay-TV operator to boost offerings and stem declining revenue.
Telefonica will pay Mediaset's Spanish unit 295 million euros ($401 million) for the 22 percent stake in DTS, Spain's biggest phone company said yesterday. Madrid-based Telefonica already has a 22 percent holding and is awaiting approval to acquire the rest of DTS from Promotora de Informaciones SA.
Telefonica joins European peers BT Group Plc and Telecom Italia SpA in increasing media investments to lure and retain customers with packages of phone, TV and broadband services. Vodafone Group Plc, the world's second-largest wireless carrier, agreed in March to buy Spanish cable operator Grupo Corporativo Ono SA in a 7.2 billion-euro transaction to bolster capabilities in TV and broadband.
Buying DTS is "a very smart decision by Telefonica, because even more than the TV business itself what they are aiming at is to avoid net losses of mobile-phone clients," German Garcia Bou, an analyst at Ahorro Corporacion Financiera in Madrid, said in a phone interview before the announcement. He recommends buying Telefonica shares.
Telefonica's Spanish revenue declined to 13 billion euros in 2013 from 21.2 billion euros in 2008 amid an economic crisis and a price war among mobile careers.
In June, Telefonica agreed to buy 56 percent of DTS from Prisa for 750 million euros, and that deal is now awaiting regulatory approval. By accepting Telefonica's offer, Mediaset waived an option to make its own bid for Prisa's stake.
Movistar Package
Telefonica has already bought soccer and Formula 1 broadcasting rights to make its Movistar Fusion package more attractive. It also owns Television Federal SA, or Telefe, an Argentinian TV broadcaster.
Mediaset, controlled by former Italian Primer Minister Silvio Berlusconi, acquired the DTS stake in 2010 as it tried to expand in pay-TV outside Italy. The company is now seeking to provide exclusive content to DTS while accelerating a search in its domestic market for a partner for its Premium pay-TV unit.
Telefonica Chief Executive Officer Cesar Alierta is focusing the company's phone operations on markets including Latin America, Germany, the U.K. and Spain, while also seeking to expand digital business in an effort to boost revenues and cut debt.
Owning a television broadcaster may help Telefonica's revenue by reducing the rate of customer losses, or churn, said Paul Marsch, an analyst at Berenberg Bank.
"At some point the market matures; then it becomes a churn war and the provider with the lowest churn wins," Marsch said in an interview in London. "Content providers have lower churn than telephone and broadband providers."
Before it's here, it's on the Bloomberg Terminal.
LEARN MORE