Ex-BBC Host Harris Sent to Prison for Sexual Assaults
Andrea Gerlin and Jeremy Hodges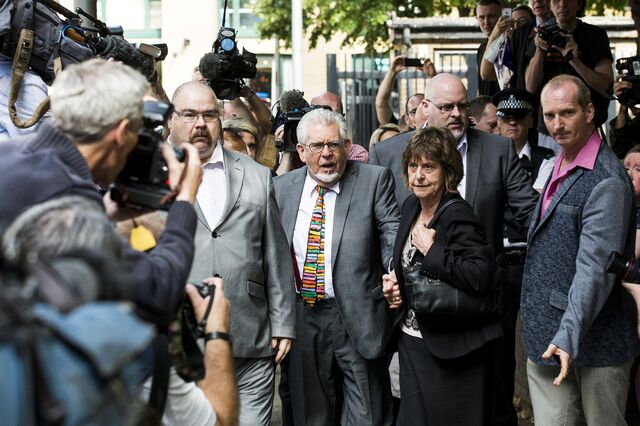 A London judge sentenced Rolf Harris, the Australian-born ex-host of British Broadcasting Corp. television shows, to five years and nine months in prison for indecently assaulting young girls and a woman.
Harris, 84, must serve at least half the sentence, Judge Nigel Sweeney said today. The former television star was found guilty on June 30 of all 12 counts against him for the assaults involving girls and a woman ranging in age from 7 to 19 between 1968 and 1986.
"In every case the age gap between you and your victim was a very considerable one," Judge Sweeney said. "You have shown no remorse for your crimes at all. Your reputation now lies in ruins, you have been stripped of your honors but you have no one to blame but yourself."
Harris is the latest aging celebrity to be tried in the U.K. over sexual-assault allegations. Publicist Max Clifford was found guilty in April of indecent-assault charges dating back as far as 40 years, while soap star Bill Roache and former BBC disc jockey Dave Lee Travis were acquitted earlier this year.
Harris was charged last year by detectives investigating child abuse in the entertainment industry. The probes began in 2012 with accusations against the late BBC television star Jimmy Savile, which triggered a scandal at the world's largest public broadcaster.
A member of the public complained that Harris's sentence was too lenient, triggering a review by the Attorney General's Office.
'Dark Side'
During Harris's seven-week trial, prosecutor Sasha Wass accused him of using his fame to take advantage of underage girls. Wass said during the trial that he had a "dark side" and a Jekyll-and-Hyde nature.
The women testified about their encounters with Harris. The entertainer and his daughter Bindi Nicholls, who was a friend of one alleged victim, also took the witness stand during the trial.
Harris, who has been honored three times by the queen, was the host of U.K. television programs including "Animal Hospital" on the BBC in the 1990s and wrote songs such as "Tie Me Kangaroo Down, Sport."
Before it's here, it's on the Bloomberg Terminal.
LEARN MORE