Asian Currencies in Weekly Advance as Export Outlook Brightens
Kyoungwha Kim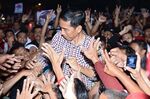 Asian currencies advanced the most last week in almost two months, led by Indonesia's rupiah, as signs of improvement in the world's two largest economies spurred optimism that regional exports will pick up.
U.S. companies added more jobs in June than economists estimated while China's manufacturing grew at the fastest pace of the year, reports showed last week. South Korea's exports rose 2.5 percent in June from a year earlier, after declining 0.9 percent the previous month, and Malaysia reported yesterday an 11th straight increase in shipments for May.
"People became less worried China's economy is going to crash and that is a positive development," said Tim Condon, head of Asian research at ING Groep NV in Singapore. "Economic activity in China has firmed up and that helps emerging markets and we're now seeing an ongoing recovery in the U.S."
The Bloomberg-JPMorgan Asia Dollar Index, which tracks the region's 10 most-active currencies excluding the yen, rose 0.3 percent last week, the biggest advance since the period ended May 9. The rupiah strengthened 1 percent to 11,880 per dollar in Jakarta, while the Malaysian ringgit gained 0.9 percent to 3.1860 and India's rupee added 0.6 percent to 59.7350, according to data compiled by Bloomberg.
The ringgit climbed to the highest level since November on bets Malaysian policy makers will raise interest rates for the first time in three years. Data showed yesterday that exports increased 16.3 percent in May from a year earlier, exceeding the median estimate of 15.2 percent in a Bloomberg survey of economists.
"The ringgit is firmer than other Asian currencies because of expectations of an interest-rate hike," said Wong Chee Seng, a currency strategist at AmBank Group in Kuala Lumpur. "The uptrend in the exports is also supportive of the Malaysian currency."
Indonesia Surplus
The rupiah's weekly gain was the biggest since the period ended May 16. Indonesia's trade balance swung to a $70 million surplus in May, from a $1.96 billion deficit in April, official data showed July 1. The nation holds a presidential election next week and candidate Joko Widodo, who is leading in opinion polls, plans to allow foreigners to buy apartments in an effort to raise tax revenues, Setyo Maharso, a member of his campaign team, said on July 3.
South Korea's won strengthened 0.5 percent last week and reached a six-year high yesterday of 1,008.37 per dollar. The government and the central bank said July 2 they were concerned about herd behavior in the currency market, a signal they may intervene to counter gains. Taiwan's dollar rose 0.1 percent last week.
China Meeting
The yuan climbed 0.22 percent last week to 6.2043 per dollar before Chinese and U.S. officials meet July 9-10 for talks. U.S. Treasury Secretary Jacob J. Lew said last week he's frustrated with the pace of policy changes in China and urged the nation to let its currency appreciate further. The People's Bank of China lowered the currency's fixing by 0.16 percent last week, the most since March.
Elsewhere in Asia, the Philippine peso rose 0.7 percent from a week ago to 43.47 per dollar, while Thailand's baht added 0.1 percent to 32.37. Vietnam's dong rose 0.2 percent to 21,290.
Before it's here, it's on the Bloomberg Terminal.
LEARN MORE