pursuits
Will You Live Long Enough to See the U.S. Win the World Cup?
By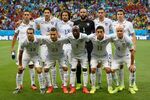 U.S. soccer fans, emboldened by the thrilling run of the men's national team and gutted by a tough loss this week, will now have to wait until the 2018 FIFA World Cup for another shot at history. Sure, there's reason to be optimistic. The U.S. kept pace with elite teams, fielded a bunch of young talent, and seems to have found a coach with a plan. But it still has a long way to go at every position aside from goalkeeper.
Given that gap, it's reasonable for American soccer fans to wonder whether they will live to see a U.S. team hoist the coveted gold trophy. Chicago Cubs fans know this grim actuarial game well, and Boston Red Sox fans are glad to forget it.
For those under the age of 70, the odds of seeing a riot of red, white, and blue at the end of a World Cup are decent. Those on the far side of that milestone—well, you'll always have that Ghana game.
Here's how the math breaks down. National soccer teams get an aggregate grade based on the collective skill of their players called an Elo rating. The best teams in the world have a rating just above 2,000. This is the range a team typically has to be in to get a gold trophy.
Here's a look at the ratings going into this summer's World Cup.

The U.S. has an Elo of 1,832. As FiveThirtyEight points out, for the past two decades or so the team has improved its score at a rate of about 50 points every four years. If that pace holds—a big if—the U.S. will crest the 2,000 mark just in time for the 2030 World Cup and have a decent shot at winning subsequent tournaments.
That means, given the average life span of U.S. men (84) and women (86), those who are around 68 or 70 at the moment may get a chance to celebrate, even if it's from the old folks' home.
Of course, like most things in life, it's better to be younger. Here's how young you have to be at the moment to catch each of the coming World Cup tournaments.

Soccer fans who are 60, for example, probably have six more tournaments in which to agonize over every U.S. shot and save.
Of course, there are miracle scenarios. Pelé made his World Cup debut at age 17. Maybe such a player will rise up from the plains of Nebraska or the streets of Philadelphia and secure a championship early—say, in 2026. If that player is out there, he is 5 years old.
Another option: curing cancer.
Before it's here, it's on the Bloomberg Terminal.
LEARN MORE