The FDA May Not Have Approved the Lab Test to Diagnose Your Disease
By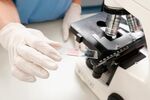 If you get a test to diagnose a disease, you might assume that the screening has been cleared by federal regulators to make sure it's safe and accurate. But that isn't always the case—and some lawmakers say labs need more oversight to protect patients.
Whether a test needs approval from the Food and Drug Administration depends on where it comes from. Tests from manufacturers get approved before they can reach the market, but those created by laboratories don't, according to a letter (pdf) from five Senate Democrats urging more oversight. These lab-developed tests can be used "for an infinite number of patients without ever being subject to the same pre-market reviews," the lawmakers wrote.
What's the problem? While most lab-developed tests are simple and low-risk, some are not, and they can harm patients by, for example, falsely indicating a diagnosis that then leads to an unnecessary treatment.
For years, the Centers for Disease Control has been warning people who are worried they might have Lyme Disease to avoid questionable screenings, known as "home-brew" tests, "whose accuracy and clinical usefulness have not been adequately established."
The FDA already has authority to regulate these tests at its discretion. The agency drafted guidelines years ago to tell labs which tests would be subject to review, the Hill reported. They're being held up at the Office of Information and Regulatory Affairs, a branch of the White House budget office essentially devoted to regulating other federal regulators.
The senators are urging them to hurry up: "For years this draft guidance has languished at [the Office of Management and Budget], causing continued unpredictability and uncertainty for industry, clinicians, patients and the general public."
Before it's here, it's on the Bloomberg Terminal.
LEARN MORE