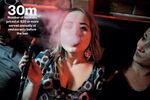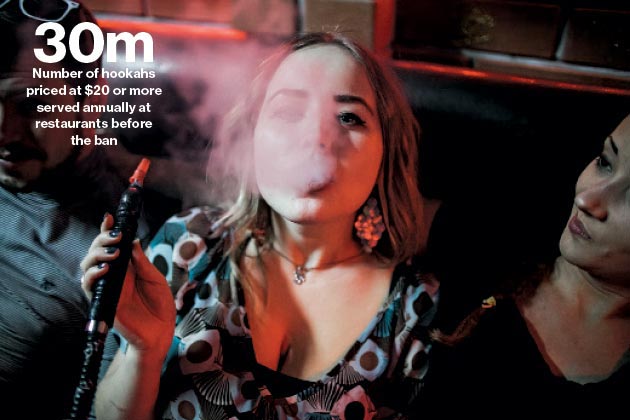 In recent years, the late-night revelry wasn't complete for many customers at Alexei Vasilchuk's chain of trendy teahouses in Moscow until they'd gotten their nicotine fix with a few drags on a hookah, a long-stemmed water pipe. The practice is huge across Russia, with eating establishments taking in $600 million annually from offering hookah service, according to researcher RestConsult. But following Russia's June 1 ban on tobacco smoking in public places, Vasilchuk's Chaikona No 1 outlets no longer offer tobacco-based versions of the devices, also known as shisha, narghile, calean, or hubbly bubbly. Visitors can instead puff on steamy concoctions made with nicotine-free fruit mixes—without the customary buzz.
Because of the change, Russian bar owners' revenue from offering hookahs may drop by a third, according to RestConsult, which estimates that the water pipes are offered at 40 percent of Moscow eateries. "Those who were nicotine-addicted are fleeing to other places that don't comply with the law and keep tobacco hookahs illegally," says Vasilchuk, who estimates that about 10 percent of Moscow restaurants aren't obeying the new regulation.
Hookahs are single- or multi-stemmed water pipes that originated in Asia more than five centuries ago. A long, flexible tube allows users to inhale smoke or steam produced by heating tobacco, sugar beets, or porous stones infused with aromatic fluid (basically fruit syrup and glycerin). The smoke travels through a basin filled with cool water or other liquid, making it easier to inhale.
The water pipes came to Moscow via Uzbek cafes at the turn of the century and became more popular in the past decade as incomes rose and consumers wanted to try new things. Users say the nicotine hit is less than that of cigarettes, but the social nature of sharing the hookah has fueled its popularity.
Before the ban, Russian restaurants served about 30 million hookahs a year priced at $20 or more, according to Point Art, the country's largest importer of ingredients for hookahs. An additional 20 million are smoked at home. Many kinds of restaurants had been adding shisha to their menus to boost revenue and encourage people to spend more time there, according to Sergey Mironov, head of RestConsult. "It has been extremely profitable. Customers are charged, say, $25 to smoke a hookah, while it costs just $1.20 to make it," he says.
The June 1 ban—part of President Vladimir Putin's campaign against tobacco and alcohol abuse, which kills 900,000 Russians annually—already has led to a slide in demand, according to Campbell Bethwaite, a co-owner of the Garage Club in the Russian capital and a shisha smoker himself. "The tobacco ban is reversing the trend as nicotine-free mixes reduce the quality of [the] experience," he says.
In an effort to retain business, some Moscow cafes have rebranded hookahs as "steam cocktails," nicotine-free drags flavored with fruits including apples, peaches, and grapes. Chaikona No 1 offers several dozen varieties on its menu costing from $33 to $116 per hookah use. The more exotic include hookahs in a watermelon base or those where Champagne rather than water is used in the bowl.
Many restaurants have also stuffed shishas with German-made "steam stones" as an alternative to tobacco, says Evgeny Fedotov, head of marketing at Point Art. The pea-size porous stones give off a flavored cloud when they're heated and the fruit syrup inside them evaporates.
Many customers aren't happy about the changes. "This is just an imitation of hookah," Sergey Suverov, a 43-year-old financier, said while trying a steam cocktail in a Moscow bar last month. "It looks like a hookah, it tastes like a hookah, but it doesn't give you a buzz."
Since the ban applies only to public places, some hookah establishments have converted themselves into closed clubs for smoking only, says Point Art's Fedotov. Others may turn away from Russia altogether, according to Anton Viner, the stepson of billionaire Alisher Usmanov and co-owner of the Uryuk Cafe chain of Uzbek-style teahouses. "Moscow used to be a trendsetter in the hookah business in Europe and beyond," he says. "Now some restaurateurs will try to set up hookah cafes abroad where it's still allowed."
Before it's here, it's on the Bloomberg Terminal.
LEARN MORE