Stevens Renewed Jawboning Hits Mark to Spur Aussie Drop: Economy
Jason Scott and Candice Zachariahs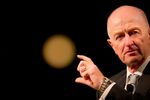 Glenn Stevens's renewed jawboning of the Aussie pushed it toward the biggest two-day drop since January as the central bank governor said investors were underestimating chances of a significant fall in the currency.
"Most measurements would say it is overvalued, and not just by a few cents," Stevens said in the text of a speech delivered in Hobart today. "We think that investors are underestimating the likelihood of a significant fall in the Australian dollar at some point."
The Aussie -- which has traded as high as about $1.11 and as low as 77 U.S. cents in the past five years -- fell 0.8 percent today, continuing a retreat from an almost eight-month high. The elevated currency has impeded efforts to stimulate non-mining areas of the economy with record-low interest rates.
"The speech represents the start of a new journey down the road of jawboning," Stephen Walters, JPMorgan Chase & Co.'s chief economist in Australia, wrote in a note. "The gap between AUD and commodity prices remains unusually wide, so the new adventures of jawboning likely will continue."
Walters said he expects the RBA will hold the benchmark cash rate steady at 2.5 percent for at least another year, "but remain of the view that a rate cut in the near term remains more likely than a hike."
Traders are pricing the benchmark rate will be 12 basis points lower over the next 12 months, according to an index of swaps from Credit Suisse Group AG in Sydney today. The Reserve Bank of Australia kept its benchmark steady for an 11th month on July 1 and flagged a period of steady borrowing costs.
'Over Optimistic'
"Investors in their search for yield and in the very low volatility world that we presently live in where people think that the risk of anything going wrong seems to have completely gone away, I think that's over optimistic," Stevens said in response to a question on the currency today. "And I think part of those are underestimation of the likelihood of the Aussie going down at some point, and possibly quite materially."
The Australian dollar had gained almost 8 percent since the RBA moved to a neutral bias in February this year. It traded at 93.68 U.S. cents at 4:48 p.m. in Sydney, from 94.30 cents before Stevens's speech was released.
The comments on the Aussie are "clear jawboning," said Sue Trinh, a senior currency strategist at Royal Bank of Canada in Hong Kong. "His comments were taken as noticeably more dovish than what the market was geared up for."
Stability Message
Stevens said language in recent statements about stability of interest rates was intended to clarify that the central bank did not think a higher benchmark was imminent.
"Overall, I judge that language to have served its intended purpose," he said. "Present market pricing suggests that market participants expect interest rates to remain low for some time yet."
Changes in language should be expected to continue over time as more information becomes available, he said.
Long before any rate increase is considered the board would probably "revert to the more normal formulation that the stable policy settings 'remained appropriate' or something like that," he said. The change "wouldn't imply any particular change in the Bank's views about the future course of policy."
Data released during Stevens's speech showed retail sales declined 0.5 percent in May from a month earlier, following a revised 0.1 percent fall the previous month. That compared with the median forecast for a unchanged reading in a Bloomberg News survey. Building approvals climbed 9.9 percent in May from April, more than economists' estimates for a 3.2 percent gain.
"Stevens has in our view sought to both reiterate a 'low for long' message and at the same time highlight the downside risks to the policy outlook," Adam Boyton, chief economist for Australia at Deutsche Bank AG in Sydney, wrote in a note today. "The overall tone of the governor's remarks suggest that any increase in rates remains some way off."
Before it's here, it's on the Bloomberg Terminal.
LEARN MORE