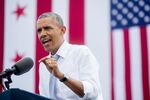 In a lengthy radio interview on American Public Media's Marketplace, President Obama suggested that he's not quite done implementing rules intended to restrain Wall Street. Dodd Frank, the reform legislation passed in the aftermath of the 2008 financial crisis, was intended to stabilize the system, and Obama is largely satisfied that it has achieved that goal. The president also declared that "Too Big to Fail," the idea that banks have become so large that they enjoy a form of built-in taxpayer support no matter what they do, has largely been addressed.
The unfinished business, as Obama puts it, is the very culture of Wall Street—and that's where he plans to turn next.
"The problem is that for 60 years, we've seen the financial sector grow massively. Now, it's a great strength of our economies that we've got the deepest, strongest capital markets in the world, but what has also happened is that as the financial sector has grown, more and more of the revenue generated on Wall Street is based on arbitrage—trading bets—as opposed to investing in companies that actually make something and hire people," Obama told Marketplace's Kai Ryssdal. "And so, what I've said to my economic team is that we have to continue to see how can we rebalance the economy sensibly, so that we have a banking system that is doing what it is supposed to be doing to grow the real economy, but not a situation in which we continue to see a lot of these banks take big risks because the profit incentive and the bonus incentive is there for them. That is an unfinished piece of business."
"Would we be better off if banking was boring again?" Ryssdal asked.
Obama replied: "Absolutely. And I've said that repeatedly. Some of the work to get that done, though, involves restructuring the banks themselves—how they work internally. Right now, if you are in one of the big banks, the profit center is the trading desk, and you can generate a huge amount of bonuses by making some big bets; you will be rewarded on the upside. If you make a really bad bet, a lot of times you've already banked all your bonuses. You might end up leaving the shop, but in the meantime everybody else is left holding the bag. Now what we've been able to do is to try to prevent taxpayers from being the folks who are left holding the bag. But it's still not a real efficient way for us to run a financial system. That's going to require some further reforms."
The president didn't specify how he might go about restructuring the banks and reinventing the classic Wall Street compensation system, which does indeed create incentives to take risks by paying huge bonuses to star traders who might bring in enormous profits one year and lose billions the next. Perhaps he imagines a modern version of the Glass-Steagall Act, which prohibited commercial banks from engaging in investment banking and trading until it was repealed, after intensive financial industry lobbying, in 1999. The president's remarks are sure to have caught Wall Street's attention.
Before it's here, it's on the Bloomberg Terminal.
LEARN MORE