London Gives Uber a Green Light—for Now
By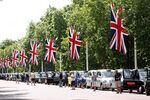 Uber scored a victory in its battles with regulators and taxi unions on Thursday, winning a favorable decision from London's transit agency allowing it to continue operations legally in the city.
Transport for London, known as TfL, rejected claims from the city's taxi drivers that Uber's smartphone app violated prohibitions on anyone other than licensed black-car drivers using "taximeter" technology. TfL concluded that smartphones running Uber's app are "not taximeters within the meaning of the legislation." Company officials responded: "Uber on, London!"
Uber's London victory comes after protests last month by the city's established taxi drivers, who gridlocked roads around Trafalgar Square. But TfL made it clear that the company's stay is temporary until a court rules on the taximeter question in cases brought by London's Licensed Taxi Drivers Association against a half-dozen Uber drivers the group believes violated city regulations. Those cases are likely to be heard sometime this fall.
The car service has engaged in escalating series of brawls with officials on both sides of the Atlantic. On Tuesday, judges in Pittsburgh ordered Uber and its competitor Lyft to halt operations in the city until they secure permission from the Pennsylvania Public Utility Commission. In New Orleans, a June 24 city council committee hearing on proposed regulatory changes favorable to Uber lasted almost four hours; the committee voted to delay a decision.
In California, both the state's Public Utilities Commission and legislators are pursuing insurance requirements opposed by Uber. "You can't have a cost shift" to taxpayers and personal insurance policies, Democratic Assemblywoman Susan Bonilla said last week. "That's an easy way to make a profit," she added, "but it's not a fair way to make a profit." For its part, Uber in an e-mailed statement urged California to "recognize the flexibility afforded by innovation."
Before it's here, it's on the Bloomberg Terminal.
LEARN MORE