Dubai's Wild Stock Market Suffers Another Epic Crash
A construction company wobbles, and stocks plunge
by , , and
While the U.S. stock market has been chugging upward with an unusual lack of volatility, Dubai has had eight bear markets—declines of 20 percent or more—in the past six years. The most recent swing was especially dramatic. After more than doubling from June 13 of last year through May 5, the benchmark DFM General Index lost 26 percent through June 30. A 13 percent rally in the first two days of July left the index up 30 percent for the year.
The symbol of Dubai's last economic boom, which ended brutally in 2008, was a network of islands built out of dredged sand in the shape of a world map—still mostly unoccupied. On the brink of bankruptcy, the sheikdom got a $20 billion bailout from Abu Dhabi and the United Arab Emirates Central Bank.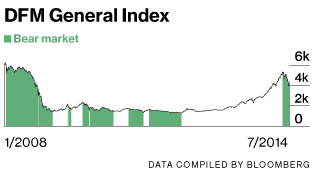 Real estate also figures in the latest boom and bust. Rising property values, plus strong gains in tourism and retail sales, helped fuel the emirate's fastest growth since 2007 last year. Dubai's economy will expand 5.1 percent this year, according to the International Monetary Fund. Arabtec Holding, the construction company that helped build Dubai's Burj Khalifa, the world's tallest tower, saw its stock soar more than 1,300 percent from March 2011 to May 5 of this year. Arabtec's streak helped attract investors to Dubai stocks, driving prices higher than justified by economics and company earnings, according to Simon Kitchen, a strategist at investment bank EFG-Hermes Holding in Cairo. "Arabtec led the surge in Dubai stocks since the start of the year, and retail investors borrowed a lot of money to get in," he says.
On June 5, investors were rattled by rumors that Aabar Investments, a fund owned by the government of Abu Dhabi, might be selling its shares in Arabtec. In the days that followed, Aabar confirmed that it had cut its stake to about 19 percent from 22 percent, Arabtec Chief Executive Officer Hasan Ismaik resigned, and other top executives were dismissed or quit. Arabtec stock lost almost 60 percent of its value from June 5 through the end of the month. The company said in a June 25 statement that it had carried out a restructuring to cut costs and improve productivity and that its finances and management are strong.
Arabtec's troubles spooked investors. "There is confusion in the market, and I call it Arabtec fever," says Wadah al-Taha, chief investment officer of Dubai-based Al Zarooni Group. "It's contagious and affecting every single share in the market." Investors who had bought on margin—borrowed money—had to sell more shares as the value of the stocks backing their loans fell. "Trust in the market has been shaken," says Tariq Qaqish, head of asset management at Al Mal Capital in Dubai. "Every time the stock market goes down, you have more margin calls, so there's a domino effect."
The construction company's fall from grace also shows that the market is still hampered by a lack of transparency and questions of governance, according to analysts and investors. "Hasan Ismaik left without any explanation, and the statement issued by Arabtec seemed like a copy-paste from a standard termination letter," says Fathi Ben Grira, group CEO of Menacorp, a brokerage. Still, some analysts are sanguine about the drop. "Now the stock market is becoming better aligned with the growth prospects we will see in Dubai and the U.A.E. in the next few years," Kitchen says.
The troubles come just as the Dubai market got an upgrade in international status. In June of last year, MSCI, which creates global stock indexes, said it would start classifying Dubai, along with Qatar, as emerging markets, a step above its former category of frontier markets. The announcement helped push up stock prices as investors bet the promotion would attract global money to local companies. The change took effect on June 1 of this year, and the market proceeded to have its worst month since 2008, falling 22 percent.
Before it's here, it's on the Bloomberg Terminal.
LEARN MORE