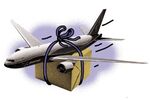 For the world's biggest maker of air freighters, the most formidable competition is coming from the bellies of its own passenger planes. Sales of cargo versions of Boeing's 777 and 747-8 aircraft have stalled as British Airways, Delta Air Lines, FedEx, operator of the world's largest cargo airline, and other carriers ground older cargo planes and transfer freight to Boeing's widebody 777 passenger jets. The shift is forcing Boeing to rethink its cargo business as a glut of large passenger jets hits the market over the next two years.
"I haven't sold a widebody freighter in four years," says Glen Langdon, president of Langdon Asset Management, a San Francisco company that sells used 747s and other large commercial jets. "I was stunned and amazed by just how much capacity there is below deck," Langdon says of the newer 777 passenger jet, which can carry 7,120 cubic feet of freight—25 percent more than Boeing's 747 passenger jumbo—and as many as 386 people. The 747-8 and 777 are among Boeing's priciest models, listing for $357.5 million and $300.5 million, respectively.
Air freight transports goods that account for about 35 percent of the total value of global trade, everything from semiconductors to iPads to this year's beaujolais nouveau. Demand has been slow to return since the economic crisis. Tepid growth during the recession, especially in the U.S. and Europe, meant that shipments moved to cheaper and slower modes of transportation. Still, air freight accounted for about $60 billion in sales in 2013, roughly one-tenth as much as global passenger airline revenue.
As technology has reduced the size of such items as personal electronics, cargo load sizes have gotten smaller. And high fuel prices have squeezed margins for express package carriers such as FedEx and cargo-only airlines.
The shift to so-called belly cargo has accelerated since oil prices topped $100 a barrel. Cargo volume will total about 57.3 million tons this year, an amount unchanged since 2010, according to data from the International Air Transport Association.
The drop-off in freighters comes as big passenger jets, including the 777, Boeing's 787 Dreamliner, and Airbus's A330, get built at record rates. The share of international air cargo carried on freighters, traditionally split evenly with belly cargo, "is around 40 percent, and one could see it slipping to 30 percent," says Perry Flint, a spokesman for IATA, which projects 8 percent growth in the global widebody fleet this year.
"These are immensely capable airplanes," says airline industry analyst Robert Mann, president of consulting firm R.W. Mann & Co. "Once you have a network of them, you can start providing an in-house cargo service without flying an all-cargo airplane."
Freight planes have some advantages over passenger models, including larger doors and the flexibility of flying at hours that aren't popular with travelers, but they "operate at higher unit costs as cargo needs to pay for the full operation of the plane," says Sanford C. Bernstein analyst David Vernon.
Boeing needs freighter orders to pick up if it hopes to avoid production cuts that could hurt it financially, says Yair Reiner, an aerospace analyst with Oppenheimer. Boeing has sold five freighters this year. Airbus has received no orders in 2014 for its A330-200 freight plane, according to the company's website. It sold six in 2013, although previous orders for 18 planes were canceled.
Boeing now projects annual cargo market growth of about 5 percent, down from more than 6 percent before the 2008 crash, says Randy Tinseth, marketing vice president of Boeing Commercial Airplanes. Despite the recent sales drought, the planemaker expects the total number of new freighters sold to hit 850 through 2032, valued at $240 billion. "Over a prolonged period of cargo growth, I think the demand is going to come back," Tinseth says.
Tinseth and William Flynn, chief executive officer of freighter leasing company Atlas Air Worldwide Holdings, say the belly cargo boom has been exaggerated. "I'm not saying that belly's not viable or not a good economic proposition for shippers—it is," Flynn says. But the idea that belly capacity on passenger jets will fundamentally change the freight-only business "is simply overstated," he says.
Airline industry analysts aren't considering cargo loads lost to passenger luggage, weight limits, or the inconvenience of long-range jets bypassing central shipping hubs, Flynn notes. Especially on busy cargo routes linking Chinese manufacturers with U.S. and European consumers, Flynn says pure freighters will continue to be vital. "Freight moves through hubs," he says.
Before it's here, it's on the Bloomberg Terminal.
LEARN MORE