HSBC, Citi in Closest Battle Since '09 for Asia Bond Supremacy
Tanya Angerer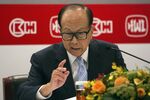 Competition to underwrite record bond sales in Asia is the most intense in five years as more banks seek business in the world's fastest-growing regional economy.
The gap between this year's first- and second-ranked arrangers of notes denominated in dollars, euros or yen has narrowed to 1.4 percentage points, the least since 0.9 in the same period of 2009, Bloomberg-compiled data show. HSBC Holdings Plc leads with 12.5 percent, followed by Citigroup Inc. at 11.1 percent. The number of underwriters jumped to 55 from 47.
Borrowers in Asia sold a record $107.7 billion-equivalent of notes in the first half, as the region's economy is set to lead global growth with a 6.18 percent expansion in 2014, according to the median estimate of economists surveyed by Bloomberg. Offerings for all of 2014 may reach a record for a fourth year, exceeding the $137 billion total in 2013, the top five arrangers said.
"Volumes are going up and absolute revenue continues to increase even if the percentage fee on each deal varies," said Mark Follett, the Hong Kong-based head of high-grade debt capital markets for Asia ex-Japan at JPMorgan Chase & Co, which for 2014 is in third place with 8.4 percent. "The bond market is a highly visible business and many banks see it as a critical part of their investment banking footprint in Asia."
Fee Competition
Issuance in the first half jumped 26 percent from the previous high last year, according to data compiled by Bloomberg. Some 32 borrowers sold dollar-denominated deals valued at a minimum $1 billion, more than double the same period in 2013.
Underwriting competition is also intensifying after fee income from arranging bond and equity sales, as well as advising on mergers and acquisitions, fell 23 percent in the region from 2011 to 2013, according to New York-based research firm Freeman & Co.
China Petrochemical Corp., parent of Asia's largest oil refiner, raised $5 billion in April in the biggest offering of notes in the U.S. currency by an Asian issuer in more than a decade. The amount matched a sale in November 2003 by Hutchison Whampoa Ltd., the Hong Kong conglomerate controlled by Li Ka Shing, Asia's richest man.
Cnooc Ltd., China's largest offshore explorer, sold $4 billion of bonds and Tencent Holdings Ltd., Asia's biggest Internet company, priced $2 billion of debt. All three deals issued in April, making it the busiest month on record for U.S. dollar-denominated bonds in the region.
Global Partners
Greater China accounted for over half of the new high-grade issuance in the first six months of 2014, independent research firm CreditSights Inc. said in a July 3 report. That's in contrast with the first quarter of the year when only 35 percent of new high-grade bonds came from China and Hong Kong. The increase was in part thanks to "jumbo" bonds from a number of Chinese state-linked companies, according to CreditSights.
"It certainly is more competitive but issuers are also increasingly realizing they need a global banking partner with a global sales force," said Amit Sheopuri, the Hong Kong-based co-head of debt capital markets for Citi.
Along with deal size, the list of banks on larger trades is also growing. China Petrochemical, known as Sinopec Group, picked 13 banks to underwrite its bond offering this year compared with 10 in 2013.
Yield Premiums
"We will continue to see a trend of pre-financing upcoming maturities or fundraising for capital expenditure," said Hital Desai, a Hong Kong-based director in the Asia debt syndicate at Bank of America Corp.'s Merrill Lynch unit. "In addition, mergers and acquisitions could be one of the key catalysts for seeing further supply in to the bond space." The bank jumped three spots to No. 5 this year from the same period in 2013.
Yield premiums on Asia's dollar securities have dropped 25 basis points this year to 238 basis points more than Treasuries, JPMorgan indexes show.
Investors receive a premium of 94 basis points to 122 basis points for five-year investment grade debt from Asia over their U.S counterparts, according to HSBC indexes.
Speculative-grade new issuance reached $17 billion in the first half of 2014, equivalent to 70 percent of all of last year's high-yield supply, CreditSights said in its report.
"Risk appetite remained healthy in the second quarter," CreditSights Singapore-based analyst Sandra Chow wrote. "The new supply included eight new perpetual bonds, five debut high-yield issuers and Pakistan's first sovereign dollar bond since 2007."
As investors' hunt for yield continues, Deutsche Bank AG, at fourth place so far this year after ranking second in all of 2013, expects an uptick in junk-bond sales.
"With risk appetite where it is, we're probably going to see less traditional high-yield structures and names," said Deutsche's Singapore-based Jacob Gearhart, head of global risk syndicate, Asia. "That may not play to every bank's strengths."
Before it's here, it's on the Bloomberg Terminal.
LEARN MORE