A Hedge Fund Wants to Teach PetSmart Some New Tricks
by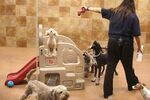 PetSmart is in the doghouse with one of its biggest shareholders.
The pet-goods retailer has been hurt of late by aggressive sales at Amazon.com's Wag unit and by rival Petco, the third big player in U.S. pet retail. New York hedge fund Jana Partners is agitating for changes after building a 9.9 percent stake in PetSmart, which it disclosed on Thursday. Jana, a $10 billion firm run by Barry Rosenstein, said in a regulatory filing that it would pursue discussions with management, directors, and other shareholders about changes that could include a sale of the company.
PetSmart shares jumped 15 percent on the news. The stock had declined almost 18 percent this year, in part because of weakening sales. In May, PetSmart reported a 0.6 percent decline in same-store sales—a first in 28 years for the Phoenix-based retailer. The company needs to fix its operational performance and capital structure and improve its financial returns to shareholders, according to Jana's filing with the U.S. Securities and Exchange Commission. In a statement on Thursday, PetSmart said it "welcomes open communications with its shareholders and values constructive input toward the goal of enhancing shareholder value."
One template that Jana is no doubt considering: the changes made by Petco as a private company. The rival retailer was acquired in 2006 for about $1.7 billion by private equity firms Leonard Green & Partners and Texas Pacific Group. Petco has roughly 24,000 employees, compared with about 53,000 at PetSmart.
One big question that PetSmart management—and investors—will need to weigh as Jana presses for changes is whether the staple pet-care business will migrate online with only specialty stores likely to remain. Fido may need food overnight, but PetSmart may not need more than 1,300 stores to stave off such hunger pains. When millions of people—encouraged by Amazon and other Web retailers—decide that schlepping pet food and cat litter from store to car to house is a silly exercise, how does PetSmart protect its margins? And how many retail stores are necessary in that type of competitive landscape?
Before it's here, it's on the Bloomberg Terminal.
LEARN MORE