UCLA's Business School Hopes Chucking State Funds Will Give It an Edge in the Donation Race
by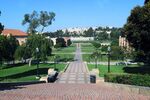 UCLA's Anderson School of Management now has the last bit of paperwork it needs to largely get rid of state support. The move will yield more flexibility and, the school hopes, help it raise money as it chases the enviable endowments of some of its peers.
Last week the university provost signed an agreement that chops all public funding from Anderson's full-time MBA program—a year after the University of California system's president approved the shift, and almost four years after Anderson's dean, Judy Olian, first proposed the idea. Anderson now has more control over tuition-setting and how many faculty members to hire (although the university gets a final sign-off on faculty salaries). It's also on the hook for its own financial fortunes. According to a December 2013 review of Anderson by UCLA faculty and outside deans, "the financial success of the school will depend on tuition revenue, gifts from donors to cover current expenses, and income from the school's endowment."
Five other degree programs at Anderson already support themselves. Only the school's Ph.D. program and its undergraduate minor in accounting will continue to get state funds.
Public support for the Anderson school had dwindled to 6 percent net of tuition, Jami Jesek, the school's chief administrative officer for finance and operations, told Bloomberg Businessweek in May.
Despite the thin trickle of state funds, Anderson's fundraising efforts had been hurt by the perception that the school didn't need the money, Jesek said. "Some potential donors might wonder why they should give money to a school that is state-supported." The school reached the counterintuitive conclusion that nothing was better than just a little bit when it came to state support. "Zero is a very easy number for people to understand," she said.
UCLA launched a five-year, $4.2 billion fundraising drive in May, with a goal of sending $175 million to Anderson. Jesek said Anderson donors pledged $19 million that was contingent on the school moving to support itself. "We're catching up with a culture of philanthropy," she said.
But the game of catch-up may be daunting. The outside review of the school put its 2012 endowment level far behind B-schools such as UC Berkeley's Haas School of Business, University of Texas at Austin's McCombs School of Business, and Virginia's Darden School of Business. Anderson's endowment is currently at $178 million, says Elise Anderson, the school's director of media relations.

Giving up state funding is rare, but not unprecedented, among business schools that are part of public universities. Darden waived public dollars in 2002. Michigan's Ross School of Business doesn't completely forgo public state support, but less than 2 percent of funding comes from the state, Dean Alison Davis-Blake told Bloomberg Businessweek last year. Those schools saw fundraising increases after they reduced their dependence on parent universities, according to a January 2012 letter (PDF) from David Lopez, then-chair of the UCLA Academic Senate Council on Planning and Budget.
Even if Anderson reaches its $175 million goal during the public campaign, it's unlikely to build a bigger war chest than its peers, who are expected to keep raising money, according to the 2013 review. "It does not seem likely that the endowment will grow to such an extent that it will afford the school a competitive advantage over its public peers in the foreseeable future."
Before it's here, it's on the Bloomberg Terminal.
LEARN MORE