Target Asks Gun Owners to Keep Firearms Out of Its Stores
By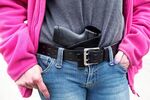 A blog post on Target's corporate website attracted more than 700 comments within two hours on Wednesday morning. The overwhelming response wasn't about the data breach that affected millions of customers or the company's search for a new chief executive. It was about guns.
Target is "respectfully" requesting that customers no longer bring firearms into its stores—even in communities where doing so is permitted by law. "This is a complicated issue, but it boils down to a simple belief: Bringing firearms to Target creates an environment that is at odds with the family-friendly shopping and work experience we strive to create," John Mulligan, the company's acting chief executive, said in a statement.
Gun-rights activists have focused on different retailers in the past year or so, challenging them to defend their policies restricting the "open carry" of guns in their stores. Chipotle and Starbucks have each (Chipotle, Starbucks) been flashpoints after the chains decided they would not allow guns inside.
Now comes Target, which doesn't sell guns or ammunition. Activists have been demonstrating at Target stores in Texas, Alabama, North Carolina, Washington, Wisconsin, and Virginia. Photographs of men carrying assault rifles while shopping in a Target in Texas made the rounds. Then a gun-control group, Moms Demand Action for Gun Sense in America, launched a petition asking Target to prevent customers from carrying firearms in its more-than-1,700 stores. The petition drew nearly 400,000 signatures.
The group issued a statement praising Target's decision. "Like Chipotle, Starbucks, Facebook, Jack in the Box, Sonic, and Chili's, Target recognized that moms are a powerful customer base and political force—and you can respect the 2nd Amendment and the safety of customers at the same time."
The hundreds of comments about the decision on Target's own site have been generally supportive, too. But several posters promise not to honor the company's request. No word yet from Target on how it would respond if and when someone brings a gun into one of its stores.
Before it's here, it's on the Bloomberg Terminal.
LEARN MORE