Sarkozy's Growing Legal Woes Dent Prospect of 2017 Comeback
Helene Fouquet and Mark Deen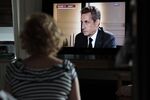 Nicolas Sarkozy's legal woes are adding up, undermining any attempt at a political comeback.
In his first interview since he left office, the former French president said the charges of influence peddling and judicial interference brought against him yesterday by prosecutors were "scandalous."
"The charges are solely aimed at continuing to humiliate, block and defame me," he said last night in an interview conducted by reporters of TF1 television and Europe 1 radio, denying any wrongdoing.
Although the latest charges against Sarkozy, 59, may not on their own be enough to prevent his return to politics, they add to a steady stream of scandals and legal cases he has had to battle since losing the presidency to Francois Hollande two years ago, diminishing his standing in the eyes of voters. He said yesterday he'll decide his political future by September.
Even before becoming the first former French head of state to be held in custody this week, Sarkozy's popularity has been slipping. A June 23 BVA Opinion survey placed him as his party's fourth-most popular politician behind former Premiers Alain Juppe and Francois Fillon and former Finance Minister Francois Baroin. A Harris Interactive poll published yesterday showed Sarkozy's rating dropping 7 points in a month to 30 percent.
"Yes, Sarkozy's image is becoming tarnished," ' Jean-Daniel Levy, a pollster at Harris, said today. "He's repeatedly been linked to scandals since leaving office."
'Biased Image'
Anti-corruption judges detained Sarkozy for 15 hours July 1 to question him over his alleged attempt to influence and corrupt high-ranking judges to gain inside information in a separate probe over his 2007 campaign financing. Sarkozy was released at 1 a.m. yesterday from the judges' office on the outskirts of Paris.
"Everything is being done to give a biased image of me," Sarkozy said. "There has been an effort to humiliate me by detaining me. "
It's an argument that has yet to convince voters. A BVA poll published in today's Le Parisien newspaper shows that 63 percent of the French believe Sarkozy isn't being treated any more harshly than any other suspect.
Last month, judges started a separate investigation into the funding of Sarkozy's 2012 presidential campaign. Judges are investigating possible over-charging of campaign events and kick-backs involving Bygmalion, a communications company hired to organize rallies during the 2012 election fight. The scandal forced Sarkozy's deputy campaign director Jerome Lavrilleux to quit the executive of his UMP party.
Prison Term
Another investigation is looking at whether his 2007 campaign got illegal political funding from Libya's former leader Muammar Qaddafi. Other judges are investigating alleged illegal contracts with a pollster used when he was president.
Yet another group of judges is looking into his role in former Finance Minister Christine Lagarde's decision on an arbitration settlement with French businessman Bernard Tapie. He was cleared of alleged illegal political funding by L'Oreal SA heiress Liliane Bettencourt.
Influence peddling and corruption alone carry penalties of up to 10 years in prison and a fine of 1 million euros ($1.37 million) under French law. Judges also have the ability to bar anyone found guilty from public office for as long as a decade. In reality, judges have discretion to be much more lenient.
"There are the maximum penalties and then what the court decides," said Sofie Combes, national secretary for the magistrates' union. "We are really in the very early stages."
Too Early
Members of his UMP political party, including rivals for the 2017 presidential nomination, showed varying degrees of support on their Twitter accounts or in French media, claiming their "friendship for Sarkozy." Only a few have expressed doubts about Sarkozy's ability to bring the opposition back into power as he's embroiled into several probes.
"One is always responsible for one's political campaign," Sarkozy's former Agriculture Minister and presidential hopeful Bruno Le Maire, told RTL radio yesterday, questioning Sarkozy's denial of any knowledge of the way his 2012 presidential campaign's rallies had been funded.
"While he is still the favored nominee for his party, he's no longer the natural candidate," Harris's Levy said. "As for a 2017 presidential bid, it's really too early to make any predictions at all."
'Stasi' Methods
Sarkozy, who pledged to quit politics after his defeat against Francois Hollande in May 2012, has had multiple public appearances this year -- including with German Chancellor Angela Merkel -- that hint at his intention to run for office in 2017. He published two opinion pieces in French and German newspapers and has given conferences on three continents.
The will-he-won't-he speculation about a Sarkozy rerun has gathered pace as Socialist President Hollande's popularity has sunk to record lows. Hollande's popularity stands at 23 percent according to Harris, lower than Sarkozy during his term.
"The question now becomes political: can Sarkozy recapture the UMP as he has been preparing to do?" said Arthur Goldhammer, co-chairman of the French Study Group at Harvard University's Center for European Studies. "A rational person might view this second phase of the judicial procedure as a stroke of good fortune for the UMP if it sidelines Sarkozy permanently."
'Grotesque Charges'
Sarkozy and his allies may also push back, questioning the motives of the courts. After investigative judges tapped the former president's mobile phones as part of a probe into alleged illegal funding for his 2007 presidential campaign, Sarkozy compared the taping methods to those of the Stasi, East Germany's secret police.
Former lawmaker Nadine Morano repeatedly questioned whether the judges pursuing Sarkozy were "impartial" yesterday in Twitter postings.
"The charges are grotesque," Sarkozy said last night.
Before it's here, it's on the Bloomberg Terminal.
LEARN MORE