Obama Plans New Transgender Protection, and Controversy Hasn't Ensued
By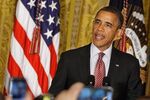 President Obama will sign an executive order banning discrimination against transgender federal employees, the White House announced this week. The new order adds to the uneven but expanding patchwork of protections for lesbian, gay, bisexual, and transgender (LGBT) workers' rights.
Unlike Obama's also-forthcoming order banning anti-LGBT discrimination by federal contractors, this one arguably doesn't change current government policy. Still, a new executive order carries legal, political, and cultural weight that outstrips that three-year-old guidance memo from the Office of Personnel Management, which is basically the federal government's HR department. It marks the first time a president has explicitly and permanently (barring an explicit repeal) written into law that the federal government won't treat its employees differently because they're transgender.
Only 18 states ban private-sector companies from firing people for their gender identity, and federal legislation to do so passed the Senate but stalled in the House. While the Equal Employment Opportunity Commission has found anti-transgender discrimination to be a form of illegal sex discrimination, that ruling falls short of the force of a decision from the Supreme Court or a statute from Congress. But in contrast to the private sector, government workers have greater protections: Bill Clinton signed an executive order banning sexual orientation discrimination in federal employment in 1998, and the Obama administration told agencies in 2011 to "ensure a non-discriminatory working environment" for federal employees of all gender identities.
What may be most striking about that order is how little controversy it has stirred. Spokespeople for House Speaker John Boehner (R-Ohio) and Senate Minority Leader Mitch McConnell (R-Ky.) did not respond to inquiries for comment. Republican leaders in Congress have opposed and stymied the Employment Non-Discrimination Act, which would mostly ban anti-LGBT discrimination in the private sector, and they've accused the White House of being overeager with executive action. But, as with Obama's order on discrimination by contractors, they may not see much purchase in making a big show of defending anti-LGBT firings. While discrimination protections can still inspire intense opposition—witness the sometimes nasty fight over Houston's new nondiscrimination ordinance—beating back the "gay agenda" is no longer the winning issue it used to be.
Before it's here, it's on the Bloomberg Terminal.
LEARN MORE