Let's Make a Deal: United Needs This Plane, and JetBlue Really Doesn't
By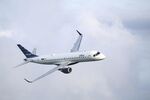 Wall Street has made a parlor game of trying to diagnose the sources of United Airlines' financial woes. The usual suspects are too many hubs, inconsistent revenue, and a preponderance of inefficient, 50-seat regional jets.
Now a Wolfe Research analyst has an unorthodox suggestion for the struggling airline: Buy five dozen Embraer jets that JetBlue Airways really ought to quit flying.
Such a deal would benefit both airlines financially, analyst Hunter Keay wrote in an "out-of-the-box idea" report directed at the airlines. "Both have fixing to do and this transaction seems, at face value, to address gaping needs at both companies: cost creep at JBLU and too many 50-seaters at UAL," Keay wrote. "We think JetBlue is under new CEO management within months, and UAL says 'everything is on the table' quite frequently these days. This makes too much sense to rule out."
JetBlue began flying the 100-seat Embraer 190 in 2005 as a way to accommodate routes that could not support its larger Airbus A320s, which have 50 more seats. That's the same year JetBlue's per-mile costs began creeping higher, Keay noted in his report. JetBlue has 24 more E190s on order, which it deferred last year until at least 2020. The airline also took a massive, $111 million financial hit last year when it was forced to overhaul 30 General Electric engines on the E190 fleet.
United, for its part, has nearly 400 of the 50-seat regional jets that Delta and American have been working fiendishly to cull from their fleets. Larger planes equate to lower costs per mile, and analysts say United executives have not been aggressive enough replacing those jets with larger models from Bombardier and Embraer, as much of the industry is now doing. The E190s replacing smaller jets would also keep United's overall seat count flat, Keay says, as the 50-seat jets come off lease and are eliminated.
A United spokeswoman, Christen David, said the airline "will continue to make the aircraft investments that provide the company with the best returns and our customers with a superior inflight experience." A JetBlue spokesman, Anders Lindstrom, said the E190 is important to the airline's strategy in Boston and San Juan, echoing comments executives made in their last quarterly earnings call.
Keay cites a somewhat similar airline precedent: The 2012 deal Southwest struck with Delta to unload 88 Boeing 717s. Southwest acquired the model—which it did not want—in its purchase of AirTran Airways. Delta was happy to take the 717s; Southwest even paid to repaint them.
Of course, United and JetBlue might not be convinced by an analyst report. Even Keay admits to an unlikely inspiration: "The idea for this note is from a dream we had the other night," he wrote. "Seriously, that's it."
Before it's here, it's on the Bloomberg Terminal.
LEARN MORE