How Bad Would a Housing Market Crash Be for China?
By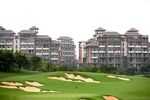 What would a China housing market crash look like? That question is increasingly on people's minds as the country's property slowdown deepens.
Prices of new homes fell for the second consecutive month in June, down by 0.5 percent, month-on-month, compared to a 0.32 percent drop in May, according to the China Real Estate Index System Survey released on Tuesday. Before the May drop, real estate prices in China's 100 largest cities had been on an almost two-year-long rise. "Judging from the current change in prices, the market has entered into a correction phase after continued price increases over the past two years," warned CREIS in a statement, reported the China Daily today.
Earlier, the official survey released by the national bureau of statistics on June 18 showed that one half of 70 cities saw prices fall in May, the largest number in two years. In response to the softening market, the city of Hohhot, capital of Inner Mongolia, announced late last month that it was ending restrictions on purchasing multiple apartments and would open up sales to non-residents. Additional municipalities with similar restrictions on real estate sales are likely to follow suit in coming months.
Meanwhile, developers across China are cutting prices, delaying new product launches, and offering further incentives to potential buyers. Most creative yet: guaranteed buybacks. In the Zhejiang provincial capital of Hangzhou, the city with the steepest price drop, Shanheng Real Estate Group is now offering buyers the choice of selling back apartments in five years at 40 percent above the purchase price. And in nearby Wenzhou, DoThink Group will repurchase homes at 120 percent of the buying price after three years, reported Bloomberg News.
The challenge for China is to control what had been runaway property price increases without suddenly deflating the market and sparking a significant economic downturn. Growth in residential real estate investment in recent years has been twice as fast as gross domestic product growth, bringing it up to 10.4 percent of the economy, or 5.89 trillion yuan ($949 billion), from less than two percent of the economy in 1997, wrote Alaistair Chan, an economist at Moody's Analytics, in "The Effects of a Chinese Housing Crash," a report released today.
If China's housing prices were to fall by 30 percent, it would have knock-on effects across the economy, causing a "severe downturn" in construction and steel production, wrote Chan. Investment in rail and public utilities would also fall substantially "as the slower growth of cities and fewer land sales would cause local governments to delay infrastructure investments," he wrote. Local governments rely "too much" on land sales, People's Bank of China deputy governor Pan Gongsheng warned in the People's Daily on June 30.
So how bad would this be for China's overall economy? In Chan's scenario of an almost one-third drop in housing prices, China's GDP would slow dramatically, to 4 percent annual growth, down from 7.7 percent last year; that would give China's economy its weakest performance in 24 years. While a property collapse may not happen, "as housing slows, the possibility of a policy mistake grows," warns Chan. "A housing market crash is still the biggest risk to China's economic outlook."
Before it's here, it's on the Bloomberg Terminal.
LEARN MORE