Goldman's Buy-China Call Has History on Its Side
Weiyi Lim and Kana Nishizawa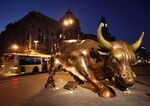 Chinese stock bulls, battered by the world's worst first-half losses, now have history on their side.
While this year's 3.4 percent drop in the Hang Seng China Enterprises Index thwarted optimistic forecasts by Goldman Sachs Group Inc. and Morgan Stanley, the second half has proven a much better time to buy during the past decade. The gauge of Chinese shares traded in Hong Kong rose an average 12 percent from July to December, versus a 1.1 percent gain in the first six months.
China's stock market tends to rally in the second half as the ruling Communist Party takes steps to meet its economic expansion targets, according to RBC Investment Management (Asia) Ltd. Premier Li Keqiang said last month authorities will "ensure" a minimum growth rate of 7.5 percent, while the government has already eased lending restrictions and accelerated state spending plans to counter a property-market slump. Goldman Sachs, Morgan Stanley and Citigroup Inc. are all sticking with forecasts for equity gains.
"We expect these Chinese indices to rally in the second half," Jonathan Garner, the chief Asia and emerging-market strategist at Morgan Stanley in Hong Kong, said by phone yesterday. Monetary easing and government spending will "help investors' concerns on a hard landing for the property sector and the banking system."
Garner said the Hang Seng China index may climb to 11,800 by June 2015, or about 13 percent above yesterday's close. Goldman Sachs has a target of 12,000, according to a June 23 report by analyst Ben Bei. Citigroup's Shen Minggao said the MSCI China Index will rise 12 percent by the end of 2014.
Bullish Predictions
The Hang Seng China index of so-called H shares added 0.1 percent to 10,454.27 at the close. Its 4.5 percent drop in the first half was the biggest among indexes in 46 emerging and developed markets tracked by Bloomberg and compares with a gain of about 5 percent in the MSCI All-Country World Index.
Strategists began the year with bullish predictions for Chinese stocks after the government unveiled the biggest expansion of economic freedoms since the 1990s in November. The forecasts proved premature as investors focused instead on a weakening property market, which led to the first decline in home prices in almost two years in May and helped drag down growth in fixed-asset investment to the weakest in the January-to-May period since 2000.
The government has started taking measures to boost growth, fueling a 14 percent rebound in the H-share gauge from an eight-month low on March 20 through yesterday.
Factory Output
Policy makers lowered reserve requirements for some banks last month, while the Finance Ministry called for faster spending of budgeted funds on May 28. Regulators increased banks' capacity to lend this week by changing the way loan-to-deposit ratios are measured. China's manufacturing expanded in June at the fastest pace this year, while gains in industrial production and retail sales accelerated in May.
"It seems that the economy is stabilizing," said Tai Hui, the chief Asia market strategist at JPMorgan Asset Management, which oversees about $1.5 trillion.
Economists are lifting their growth forecasts for this year, with the median estimate in a Bloomberg poll last month rising to 7.4 percent from 7.3 percent in May. That pace would still mark the slowest expansion since 1990.
Tempered Forecasts
While Goldman, Morgan Stanley and Citigroup are still predicting gains for stocks, they've tempered their forecasts. Goldman estimated in December the Hang Seng China index would climb to 13,600 by the end of 2014, while Morgan Stanley previously had a target of 12,200 for March 2015. Citigroup's estimate of 70 for the MSCI China is down from 77 at the start of the year.
Bank of America Corp.'s David Cui, who predicted in a Nov. 26 interview that Chinese stocks would drop, says the market will keep falling as the government's "mini-stimulus" measures fail to boost investor sentiment or address risks in the country's shadow-banking industry. Such off-balance sheet lending, which includes trust companies and wealth management products issued by banks, was worth 38.8 trillion yuan ($6.2 trillion) at the end of 2013, according to a Barclays Plc report in May.
"Economic growth and corporate earnings will remain lukewarm, and it won't change current market psychology," Cui, the China strategist at Bank of America, said in a June 25 interview.
History favors the second-half bulls. The H-share index has climbed from July through December during all but two of the last 10 years, including an average gain of 18 percent in the past two years.
The Chinese measure is valued at 1.2 times its companies' net assets, a 25 percent discount versus the emerging markets gauge. That compares with an average premium of 6 percent during the past decade, according to data compiled by Bloomberg.
"Every year you have a cycle," Citigroup's Shen said yesterday. "The economy starts out weak until the government can't tolerate any further slowdown and eases policy."
Before it's here, it's on the Bloomberg Terminal.
LEARN MORE