Dimon's Cancer Has 90% Cure Rate With Demanding Therapy
Simeon Bennett and Ketaki Gokhale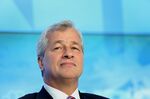 The type of throat cancer Jamie Dimon has is curable in as many as 90 percent of cases with a treatment regimen that poses challenges for his demanding work schedule as chairman and chief executive officer of JPMorgan Chase & Co.
Dimon, 58, said he will continue running the biggest U.S. bank by assets "as normal" while he undergoes radiation and chemotherapy for about eight weeks at New York's Memorial Sloan Kettering Cancer Center, the world's oldest and largest private center for the disease.
That may be hard to do, doctors said. A standard regimen includes high-energy X-rays for about 15 minutes once a day five days a week and infusions with drugs such as cisplatin once every week to three weeks, said Robert Haddad, disease center leader for the head-neck oncology program at Dana-Farber Cancer Institute in Boston.
"The challenge with this treatment is the fact that it's a daily treatment," Haddad said in an interview. "Logistically it's quite demanding because he has to go to the cancer center every day, five days a week, for seven weeks."
After three or four weeks of treatment, it's usually more difficult to work full-time, though it's possible, said Haddad, who isn't involved in Dimon's case.
"Most people can continue to work to some degree, but not necessarily on a full-time schedule, especially someone in Jamie's position, with the demands of his job," he said.
A spokeswoman for Memorial Sloan Kettering declined to comment.
'Excellent' Prognosis
Dimon called his prognosis "excellent" and said the cancer was caught quickly. When throat tumors are spotted early, the cure rate can be as high as 90 percent, said Christopher Nutting, a consultant oncologist who leads the head and neck unit at The Royal Marsden in London, Europe's largest cancer center.
"He's quite young in the context of this condition," Nutting said.
Throat cancer is a catch-all term used to describe any tumor that affects the oropharynx area: the back of the tongue, roof of the mouth, tonsils and the back wall of the throat.
Studies have shown that more than 70 percent of U.S. cancer cases in this area of the throat are the result of infection with human papillomavirus, according to the Centers for Disease Control and Prevention in Atlanta. Smoking and excessive alcohol consumption are the other main contributors.
'Heavy Smoker'
"If they were a heavy smoker, even if they quit 10 or 20 years ago, that could still be contributing," Gregory Masters, an oncologist and chairman of the American Society of Clinical Oncology's cancer communications committee, said in a telephone interview. "Those effects, even though they diminish over time, they don't go away."
When cancers are induced by HPV rather than by smoking, "there may be significant improvement in the chance of responding to therapy and remaining cancer free following therapy," Masters said. "There are some differences in the way tumors grow and propagate from the way they are induced by HPV and the way they're induced by smoking."
People also use the term throat cancer to include structures near the throat, such as the thyroid gland, the larynx or voice box and the esophagus, according to Cancer Research UK.
Dimon didn't disclose the cause of his tumor or specify which kind of throat cancer he has been diagnosed with.
Cancer 'Confined'
"The cancer is confined to the original site and the adjacent lymph nodes on the right side of my neck," Dimon said, according to a statement yesterday from the company. "There is no evidence of cancer elsewhere in my body."
JPMorgan spokesman Joe Evangelisti said Dimon doesn't smoke and his doctors haven't determined a clear cause.
Dimon was a smoker while working at Commercial Credit Co. in the 1980s before he quit and encouraged fellow executives to do the same, according to the book "Last Man Standing: The Ascent of Jamie Dimon and JPMorgan Chase," by Duff McDonald.
Each year about 27,000 cases of throat cancer are diagnosed annually with an estimated 6,100 deaths attributed to the disease each year in the U.S., according to the National Cancer Institute.
The first signs of the disease are often a sore throat or a lump in the neck, Nutting said. The tumors usually start in the tonsils or the back of the tongue then spread to the neck. Left untreated, they double in size every two to three months, he said.
Side Effects
Initially the side effects of radiation are mild, and as the level builds up, the lining of the throat can become red and sore, making eating more difficult, Nutting said.
"The last two or three weeks of the radiation, and the first month or so afterwards, most patients need strong painkillers, they have to modify their diet," he said.
About a quarter of patients become incapable of eating and need to be fed through a tube inserted in their stomach, Nutting said. Dimon may also have difficulty talking in the latter stages of his treatment, which may be a challenge for a man who in some respects has been the voice of Wall Street since the financial crisis.
"Speaking might become quite tiring, quite painful," Nutting said. "He won't want to be giving a keynote speech in that part of his treatment."
JPMorgan reports quarterly earnings July 15, in the early part of his treatment course. Chief Financial Officer Marianne Lake did most of the talking on the bank's most recent earnings call with analysts and investors.
Before it's here, it's on the Bloomberg Terminal.
LEARN MORE