Andy Murray Dethroned as Wimbledon Champion by Dimitrov
Danielle Rossingh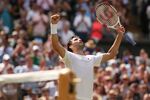 Defending champion Andy Murray just couldn't keep the ball inside the lines in his Wimbledon quarterfinal against Grigor Dimitrov, who handed him his earliest defeat at the All England Club since 2008.
The third-seeded Murray lost to the No. 11 from Bulgaria in straight sets, 6-1, 7-6 (7-4), 6-2, on Centre Court.
"The frustrating thing for me was the amount of mistakes I made," Murray told reporters, after he lost the match on his 37th unforced error. "Because even when I wanted to get into longer rallies I was missing shots. I was unable to make him work as hard as I needed to get back into the match. He was the better player from start to finish."
Seven-time champion Roger Federer moved to the 35th major semifinal of his career by beating fellow Swiss player Stan Wawrinka 3-6, 7-6 (7-5), 6-4, 6-4. He'll play No. 8 seed Milos Raonic of Canada, who ended the run of Australian Nick Kyrgios 6-7 (4-7), 6-2, 6-4, 7-6 (7-4), for a spot in the final. Wild card entrant Kyrgios, 19, yesterday knocked two-time champion Rafael Nadal out of the fourth round.
"On the grass with a serve like that it's never going to be an easy match," Federer said in a news conference about the big-serving Canadian. "That's where you then sort of go back to your own game."
Djokovic Wins
Dimitrov advances to his first major semifinal, where he'll play top-seeded Novak Djokovic of Serbia. Djokovic, who needed five sets to beat Croatian Marin Cilic 6-1, 3-6, 6-7 (4-7), 6-2, 6-2, said the defeats of Murray and Nadal didn't have an impact on him.
"If they lost, they lost to players who were better than them," he said in a news conference. "I just look at my own matches."
There have also been high-profile upsets in the women's tournament, with five-time champion Serena Williams losing in the third round and French Open winner Maria Sharapova of Russia in the fourth round.
Murray's error count was twice as high as Dimitrov's. He also struggled to get his first serve in, handing Dimitrov the initiative on his second serve. Murray, one of the best returners in the men's game, converted only one of two break points, while his opponent converted five out of nine.
British Champion
It was Murray's first defeat at Wimbledon since Federer reduced him to tears in the 2012 championship match, which Murray said today remains the toughest loss of his career. A month later at the London Olympics, Murray defeated the 17-time Grand Slam singles champion from Switzerland in the gold medal match played here.
Last year, Murray ended 77 years of waiting for Britain by beating Djokovic in straight sets to become the first British man since Fred Perry to win the Wimbledon singles championship.
Although he's been widely regarded as a future star of the men's tour for years, the 23-year-old Bulgarian finally broke through this season. He made the quarterfinals of the Australian Open and is seeded at a career-best No. 11 at Wimbledon after winning three titles, including a grass-court tournament at Queen's Club in London shortly before Wimbledon.
Guided by his new coach, former top-ranked Amelie Mauresmo of France, Murray had cruised to his seventh successive quarterfinal without dropping a set.
Two Sets Down
Watched by Prince William and Kate Middleton, the Duke and Duchess of Cambridge, from the Royal Box, Murray struggled with his serve and footwork. He went down a double break in the first set as a shot aimed at his feet landed in the bottom of the net. The Centre Court crowd grew quiet as Dimitrov took the first set with a smash, and then broke for a third time to go up 4-3 in the second set on a backhand long. Murray let out a huge roar as he broke straight back.
In the second-set tie-break, Dimitrov set up two set points with a drop volley on his own serve. He screamed and turned to his box as he took a two sets to love lead with a backhand volley that Murray failed to get back over the net.
Unlike last year's quarterfinals, when he won from two sets to love down against Spain's Fernando Verdasco, Murray wasn't able to turn the match around against Dimitrov as he double faulted to go down 4-2 in the third set. Another double fault at 5-2 down handed Dimitrov two match points.
Simona Halep, the highest seed left in the women's draw, will play Eugenie Bouchard of Canada in the Wimbledon semifinals tomorrow after they each beat their German opponents in straight sets earlier today.
Bouchard, 20, defeated German's Angelique Kerber, 6-3, 6-4, to move to her third straight Grand Slam semifinal this season. Kerber knocked French Open winner Maria Sharapova of Russia out of the tournament yesterday.
Halep, the third seed from Romania who was a runner-up to Sharapova last month at Roland Garros, beat Germany's Sabine Lisicki, 6-4, 6-0.
The 2011 champion Petra Kvitova and Lucie Safarova, both of the Czech Republic, will contest the other semifinal tomorrow.
Before it's here, it's on the Bloomberg Terminal.
LEARN MORE