pursuits
Will a Legal Agreement Stop Mötley Crüe From Going on Tour Again?
By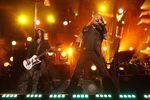 Mötley Crüe is about to set out on what it describes as its Final Tour, embarking on Wednesday from Grand Rapids, Mich. Alice Cooper will open. No hardcore fan who hopes to see Mötley Crüe perform should be without a ticket because any subsequent tour would constitute breach of contract.
The band has signed a legal "secession of touring agreement" and claims that the document would prevent Vince Neil, Mick Mars, Nikki Sixx, and Tommy Lee from ever going out on the road again under their collective brand. The Crüe members emphasized the finality at a press conference by sitting on tombstones bearing the names.
Some skepticism is warranted when considering Mötley Crüe. "The Hollyrock sleazemeisters have broken up, reunited, gone on hiatus, toured with different drummers and singers, gone splitskies amicably and bitterly, etc., etc.," writes John Serba of  Michigan Live. "It's all semantics—they've just been using different terms to tout the same ol' situation, their impending, self-imposed doom, often followed, not too long afterward, with their undoom."
Serba and other Crüe watchers point out that the band's members have made it clear that Mötley Crüe will live on after the tour. "The band isn't over," Neil told TNTRadio Empire. "Here's the thing—Motley Crue is a business and there's different parts of the business. There's merchandising, there's music, and there's touring. We're just ceasing the touring part. But there's still going to be music coming from Mötley Crüe for different types of things, and still merchandise and stuff like that."
Nikki Sixx told Guitar World: "Mick Mars and I just recently wrote a really cool track that we'll probably release sometime in the near future. … Our plan is to cease touring and then see what else is out there. One thing we're going to do is explore different licensing opportunities."
There's money to be made in merchandising, no question. But with record sales all but disappearing, the only way for acts like Mötley Crüe to make big money is to go on tour. Presumably, the band will clean up with this summer with its much-publicized Final Tour. But sooner or later, the ensemble need to find a way to get back into the world's arenas. Perhaps they'll do it under another name.
What could be more cynical? Critics such as Serba will fulminate in print. And diehard fans will flock to see the band under any guise, happy to be manipulated yet again. This is Mötley Crüe, after all—not Radiohead.
Before it's here, it's on the Bloomberg Terminal.
LEARN MORE