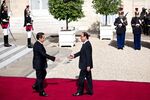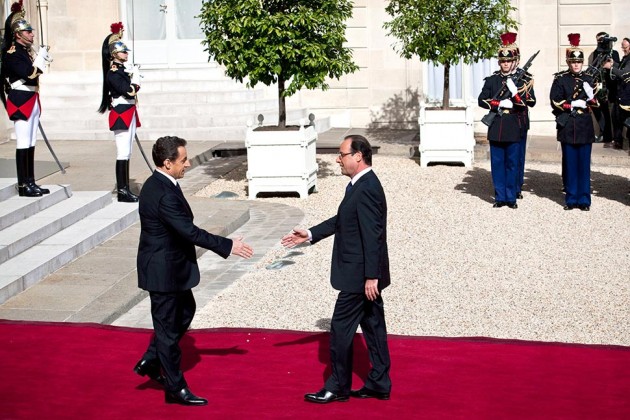 François Hollande is the most unpopular president in modern French history, presiding over a stagnant economy, double-digit unemployment, and a spate of recent worker strikes.
On the other hand, his likely reelection opponent is in jail. Former President Nicolas Sarkozy was taken into custody today for questioning in an influence-peddling case. Sarkozy can be held for at least 24 hours under a law allowing the detention of people who are believed likely to have committed a crime. The allegation is that Sarkozy illegally used judicial contacts to keep tabs on a pending investigation of his campaign finances. It's the first time in history that a former French president has been jailed.
In the weird world of French politics, however, Hollande isn't likely to benefit from this. Even as Sarkozy and his Union Pour un Mouvement Populaire (UMP) party have been targeted in multiple investigations of alleged corruption and abuse of power, the former president's popularity rating is at 33 percent, compared with only 16 percent for Hollande. Voters already blame Hollande for the country's malaise, says Laurent Dubois, a professor at the Institute of Political Studies in Paris. "The Sarkozy case just reinforces the image that things are going badly for France, and that the country's leaders aren't engaged in dealing with the country's problems."
Sarkozy's judicial troubles could complicate his bid for a comeback in 2017, though. After saying he would quit politics following his 2012 loss to Hollande, the former president recently has stepped up his schedule of public appearances and has taken a more active role in leadership of the UMP. Having to defend himself against criminal charges would be a major distraction. And French judicial investigations are notoriously long and convoluted, so the case could easily drag on for a year or more.
Indeed, the current probe has its roots in Sarkozy's presidential race seven years ago. Magistrates are investigating whether Sarkozy's campaign illegally took contributions from former Libyan leader Muammar Qaddafi, whom he famously invited to visit Paris in 2007. As part of that effort, investigators tapped Sarkozy's phone in 2013, listening in on calls between him and his lawyer. Those conversations, in turn, sparked another investigation into whether Sarkozy and his lawyer had illegally used judicial sources to get information on the corruption case. The lawyer and two investigating magistrates were taken into custody for questioning on June 30. Sarkozy has denied any wrongdoing and has expressed outrage over the tapping of his phone, which was approved by Hollande's government.
In the end, Sarkozy's legal troubles are likely to benefit rivals in his own party, rather than Socialist Hollande, Dubois says. Potential rightist candidates could include François Fillon, who was prime minister under Sarkozy but has a chilly relationship with him, and Alain Juppé, who served as Sarkozy's foreign minister and was prime minister under former President Jacques Chirac. (Chirac, incidentally, was convicted of corruption after he left office, but he wasn't imprisoned.)
Neither Fillon nor Juppé has been tarnished by other ongoing investigations of the center-right UMP. The party's head stepped down in May after revelations that he had used fake invoices from an advertising agency run by friends to conceal spending on Sarkozy's 2007 campaign. In yet another case, investigators are looking at whether the Sarkozy campaign received illegal contributions from L'Oréal cosmetics heiress Liliane Bettencourt.
Before it's here, it's on the Bloomberg Terminal.
LEARN MORE