Investors Love the $9 Billion BNP Paribas Settlement—No One Else Does
By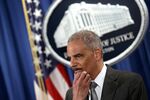 Following several months of negotiations and international intrigue, federal authorities announced the resolution of a criminal case against France's largest bank. BNP Paribas agreed to plead guilty to processing $8.8 billion worth of financial transactions for Sudanese, Iranian, and Cuban entities from 2004 to 2012 in violation of U.S. sanctions; it will pay $8.97 billion in financial penalties. "This outcome should send a strong message to any institution—any institution anywhere in the world—that does business in the United States: that illegal conduct will simply not be tolerated," said Attorney General Eric Holder.
Three thoughts on all this:
Th settlement will hurt a little. While the punishment in this case could have been worse—BNP could have lost its license or seen management threatened with criminal charges—BNP will suffer some. Thanks in large part to New York State's banking regulator, Benjamin Lawsky, the bank agreed to terminate, or otherwise "separate" from, 13 bank employees that include senior executives and to suspend clearing transactions in U.S. dollars for one year. This stands in stark contrast to recent bank settlements that have left the institutions unscathed. When Credit Suisse pled guilty and and agreed to pay a $2.6 billion fine for abetting tax evasion on the part of wealthy Americans, it was granted regulatory waivers that allowed it to continue doing business, almost as if nothing had happened.
But only a little. BNP stock enjoyed its biggest advance in almost a year after the settlement was announced. The bank said it plans to maintain its dividend this year, is sticking with its three-year growth targets, and doesn't plan to raise capital.
There's more to come. This is likely not the end of big bank prosecutions. Although it has seemed for months as if there's been a new one every few weeks, the government is still trying to catch up to its slow start in filing cases against major financial institutions for conduct that goes back several years. Authorities have already hinted that more criminal cases are coming, possibly in the realm of currency manipulation.
The critics are unmoved. There has been no shortage of civil settlements accompanied by huge fines, but to date only one bank employee—at Credit Suisse—has been charged with criminal misdeeds pertaining to the financial crisis. Despite Holder's protestations, the idea that large banks are too big and important to prosecute will remain lodged in the public imagination. "The attorney general has done a lot of good things, don't get me wrong. But this is certainly not his finest hour, not by a long shot," former Democratic Senator Ted Kaufman, who led a Senate committee investigating the lack of Wall Street prosecutions, told Politico. "It just doesn't pass the sniff test."
Before it's here, it's on the Bloomberg Terminal.
LEARN MORE