Noodles Adds 'Up-Sell' Waiters With One Job: Get You to Spend More
By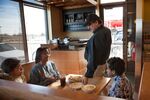 Like its fast-casual rivals that serve sandwiches and burritos in made-to-order assembly lines, Noodles & Company hasn't needed waitstaff to take orders and distribute entrees. But in the push for more sales at dinnertime, Noodles plans to add a free-floating server whose job is to tempt guests to order dessert, beer, wine, and coffee. Since "up-sell" is retail jargon for getting customers to spend more than they intended, think of the role as up-sell specialist.
The server will stop at guests' tables when they're nearly done with their meal, ask if they'd like to order anything else, and bring the extra items to the table—no gratuity required. Noodles Chief Executive Kevin Reddy expects the new staff role will result in a 3 percent boost in same-store sales. "It's material," he says in interview. "And it's an easy thing for us to do."
A server may seem out of place in fast-casual environments such as those of Chipotle Mexican Grill, which are modeled more closely on fast food than on casual restaurants. Yet after years of maturing, these chains have more or less figured out the food equation of customer satisfaction. Now, Reddy says, it's time for fast-casual to compete on service and not just on speed. "It's a blend of service methodologies," he says.
Noodles has been testing the "upsell" service in just a few of its nearly 400 restaurants for about two years and started expanding it at the end of 2013. The chain intends to have these waiters in all locations by 2016. "I think it's going to create a new niche at the high-end of fast casual that allows us to get some of the most important consumer needs from casual dining, a little elevated service, into a fast-casual concept." Panera Bread is trying something similar with a kiosk ordering system that allows diners to have their orders brought to the table.

The logic of borrowing conventions from the weak casual-dining sector may not be obvious. Reddy hopes that a lower-cost menu blended with some level of personalized service will allow Noodles to steal dinner customers from casual restaurants, a segment that has already lost many customers to the fast-casual chains. Noodles is the second-largest Asian or noodle chain in the U.S., after Panda Express, according to researcher Technomic. And it is already primarily a dine-in restaurant, getting only about 35 percent of its business from takeout.
To ensure that customers notice the servers and menu add-ons, Noodles is building counters to showcase the wine, beer, and coffee offerings. "At dinner, the occasion is different than lunch," Reddy explains. "People tend to linger a bit longer. You might have beer or wine, and you might opt [for] dessert." Before you know it, your bill will be higher than you expected.
Before it's here, it's on the Bloomberg Terminal.
LEARN MORE